Popular Tourist Destination
Well, Jan van Riebeeck wrote in his diary about the finest forests in the world and consequently named the area Hout Bay (Wood Bay). The town is nestled in the shadows of the high, craggy Karbonkelberg, and guarded by the Sentinel. It played a strategic role in the tussle for the occupation of the Cape.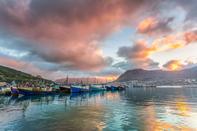 ©Chris Daly
Scenic view of Hout Bay Harbour, Western Cape.
The ruins of some of the forts and batteries are still to be seen, complete with cannon - most of which are still used for highdays and celebrations. Hout Bay is a popular tourist destination. It has beautiful, safe beaches, and a number of well-marked walking and hiking trails.
The working harbour, built in 1930, has fishing boats landing their seasonal catches on the quayside daily. Here visitors can make their personal choice and then bargain for best prices. The African influence can be seen in some of the arts and crafts that are available to casual shoppers; home crafts are many and varied, and make excellent gifts for family and friends "back home".
Inlove with the Sea and Nature?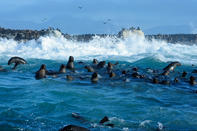 ©Shem Compion
Enjoy a trip to watch seals on Seal Island.
Charter a boat and do close-up viewing of seals and shipwrecks, or go on deep-sea fishing and fly-and game-fishing excursions, enjoy a trip to watch seals on Seal Island, or board a luxurious catamaran cruiser and enjoy a variety of exclusive cruises. Fauna and flora might be your special interest, in which case you have to spend time at the extensive Oriental Bonsai Garden and Nursery.
Perhaps this farm's best claim to notoriety is for a murder that took place during the forties. A woman killed her husband with an axe, then claimed that he had fallen off a windmill. After she was brought to justice, the authorities found that there were extenuating circumstances, but it is not positively known what happened to her.
However, years of loving care have gone into creating this bonsai garden, and it is one of the places which you should not miss during your visit - don't worry about the ghost! After many years of research, planning and conceptualisation, Hout Bay's 'Mariners Wharf" was created. The culmination of one man's dream, this very first harbour-front emporium of seafood bistros, restaurants, fresh fish and live lobster markets also includes nautical gift and curio shops - allow yourself enough time to enjoy this special meal!
Popular Excursions in Hout Bay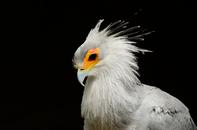 ©Karl Svendsen
A Secretary bird at World of Birds in Hout Bay, Western Cape.
You can visit heritage sites like the Hout Bay Museum, or gun battery ruins, or join an approved township tour to get a more personal "feel" of Hout Bay and its history. Alternatively, you could go to the world-famous World of Birds, a wildlife sanctuary and Monkey Park where over 3 000 birds of 330 different species and a mixture of smaller animals are uniquely presented in spacious and tropically landscaped walk-through aviaries - a unique and unforgettable experience.
Set on 4 ha of land in the Hout Bay valley, the park has over 100 landscaped walk-through aviaries. Popular excursions from Hout Bay include a launch cruise to Duiker Island, home to a Cape fur seal colony, and a sunset cruise to Cape Town. In all, Hout Bay offers a perfect combination of relaxation and excitement.