In 2004, the Global Fund to Fight Aids, Tuberculosis, and Malaria gave a generous donation towards South Africa's fight against HIV/Aids.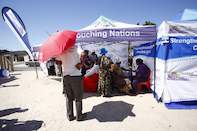 ©Eric Miller
This played a pivotal role in ensuring that HIV-positive South Africans receive the best possible medical treatment and care. Today, the Global Fund is a key player in securing funds for disease-stricken countries. South Africa has numerous non-profit organisations that play an unequivocal role in the country, as they care for the underprivileged minority fighting HIV/Aids, discarded by society. As in 2004, these organisations are still active today in their fight against the disease.
The Global Fund to Fight Aids
In 2004, in a massive breakthrough, everybody qualifying for Aids drugs in the Western Cape would get them by the end of the next financial year. The Global Fund to Fight Aids gave the Western Cape R1OO million over the course of three years and R460 million over the following five years, which was the biggest donation that any Western Cape government department had ever received up until that point in time.
After their 2004 donation was made, The Global Fund continued to provide grants to other provinces in South Africa, such as KwaZulu-Natal. Today, they provide grants to various recipients, including the AIDs Foundation of South Africa (AFSA), National Department of Health and Western Cape Department of Health.
The Global Fund was founded in 2002 as a partnership between government, civil society, the private sector and people affected by the HIV/Aids, TB, and malaria. The fund has helped millions of people and has provided prevention, treatment, and care services to hundreds of millions of affected citizens around the world.
The fund has played an instrumental role helping revitalize entire communities, strengthen local health systems and improve economies around the globe. Their donation to South Africa at the height of the Aids epidemic save thousands of lives.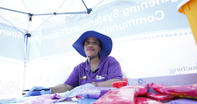 ©Eric Miller
People at the GAPA Open Day in Khayelithsa.
HIV/Aids NGOs in South Africa
Those who benefited from The Global Fund money were 28 Non-profit organisations running HIV/ Aids programmes. These included Médecins sans Frontiéres, the Desmond Tutu HIV Foundation, hospices including St Luke's, and Nazareth House and LoveLife. These NGOs are extremely relevant during this Aids epidemic in South Africa, creating better lives for those who live with HIV/Aids.
HIV/Aids organisations and charities in South Africa are important role players in society, as they care for the impoverished and those left behind by society. Médecins sans Frontiéres (Doctors Without Borders) is an international non-governmental medical organisation, focusing on humanitarian work. They intervene in conflict or disease-stricken situations around the world.
The organisation has an HIV/tuberculosis project in various regions around the country that aims to implement treatment regimens and innovative models of care for patients living with HIV and TB. In 2016, they started focusing on at-risk groups such as pregnant HIV-positive women, and a partnership with the city of Cape Town and the mothers2mothers project was formed.
This now enables women to access one-stop services for HIV and other health issues for both themselves and their babies, thereby improving adherence to treatment. The Desmond Tutu HIV Foundation was founded in 2004 and operates from within the Desmond Tutu HIV Centre (DTHC) at the University of Cape Town.
This non-profit organisation is supported by Archbishop Emeritus Desmond Tutu, and the foundation focuses on research, clinical and community outreach. Today, their goal is to lessen the impact of the HIV epidemic on individuals, families, and communities, through innovation, an extensive research mandate and humanitarian work.
LoveLife is a youth-centered HIV/Aids foundation that was founded in 1999. They promote social activism for healthy living, active lifestyles and HIV consciousness among young people. In 2006, the World Health Organisation (WHO) recognised loveLife as the only national programme in the world that measured HIV prevalence. Today, their main objective is to reduce HIV infections among young people by educating them about safe sex and preventative measures.