Breede River Valley Settlers
During the early days of Dutch settlement in the Cape area, the Breede River Valley was only accessible through the Roodezand Pass, a road that snaked through the Hottentots Holland, Wemmershoek and Slanghoek Mountains to the Groot Winterhoek Mountains and into the rift of the Valley.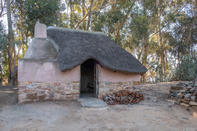 ©Chris Daly
Worcester was first inhabited by San hunters and Khoi farmers, and later European settlers would settle on farming lands.
The area was known as a hunter's paradise, because it was abundant in game and wild birds. In the early 1700s, European farmers started settling along the Breede River Valley, which was first inhabited by San hunters and Khoi farmers. The settlers quickly made trading arrangements with the tribes, and life along the Valley was relatively good.
During the British occupation of South Africa, the Cape Colony expanded as European settlers moved towards the interior of the region. Farm plots were being sold off in the area, and in 1820 Worcester came to be, comprising of 144 plots of land. The town grew rapidly as the farms expanded and trading started taking place in the market square.
Due to the Breede River Valley's fertile soils, agriculture flourished early on. Wine production started around the 1860s, and today the Valley is the largest wine-producing region in South Africa.
Planning the Town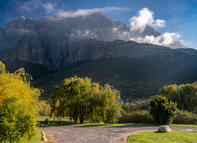 ©Chris Daly
Worcester is a thriving town due to its agricultural practices, and is an important viticultural centre.
British colonial administrator Lord Charles Somerset named the town after his eldest brother, the Marquis of Worcester. Captain Charles Trappes was in charge of planning the town, and laid out wide streets and large spaces between the houses.
The Worcester District Council was proclaimed in 1855, with boundaries set in all directions. The town experienced an economic boom in the 1860s due to its thriving agricultural practices, and by the 1890s the population had grown rapidly. It then separated into a rich, middle-class section and a poorer area for low-income households.
Worcester became a municipality in 1895 and a town council was elected. During this time, the town underwent enormous growth - the first town hall was erected, the Worcester Gold Mining Company Ltd was founded and a railway line was built.
Today Worcester is an important viticultural centre, and fruit processing and canning, brandy distilling, wool milling and light manufacturing are its economic mainstays.