Route to The Valley
Nature's Valley and the surrounding coastline, showed signs of Old Stone Age life from 1 million years ago. San hunter-gatherers lived in the area from about 10,000 years ago until they were displaced by Khoikhoi herders from the interior.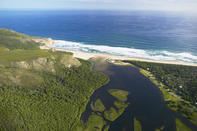 ©Roger de la Harpe
View of Nature's Valley.
Travelling along the Garden Route coastline was impossible back in the day due to the extremely deep river gorges blocking all east-west traffic. During the 1800's, there was no practical way from Plettenberg Bay to Tsitsikamma. In 1867, road-builder Thomas Bain completed a road from George to Knysna, which provided access to more of the coastal area.
Nature's Valley only became easily accessible after Thomas Bain completed the Grootrivier Pass in 1880. He first explored the route in 1868 to test its feasibility, and had a keen interest in building the road as there was a belief that it could be used to halt the runaway destruction of the forests by the Dutch East India Company woodcutters in 1777, which was carried on by their descendants. After Bain's completion of the Groot River Pass, the Forestry Department proclaimed three lots in the Valley – one for its own use and the other two sold to private individuals.
The first person to settle in the valley, who acquired a 69-hectare lot from Telfer Anderson, was Hendrik Barnardo, who had been a foreman at Bain's Groot River construction camp. Barnardo was an enigmatic character who went to extreme lengths to protect the trees of the area. In the face of continued pressure to sell a portion of his farm, Barnardo finally relented in 1941 and sold an area of it to a syndicate of ten buyers.
In 1943 Baron Ulrich Behr of Kurland bought the option to purchase the remainder of Barnardo's property from the Van Reenen family, who had acquired the option in the 1920s, but had never exercised it. In 1953 the village was declared and formally named "Nature's Valley" by Behr.