Traveling by Air
Travel by air is one of the most efficient modes of transportation, because you skip the long road travels and you can see more of the country in a limited time.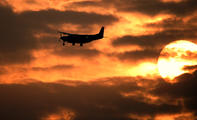 Plane in Sunset, Tanzania.
You can travel by air to South Africa with frequent direct and indirect flights coming in from destinations throughout Europe, North America, the East and Australia.
Given that South Africa is one of the most developed countries of the African the continent, it is a major flying hub in the Southern African region.
There are a number of airlines connecting all the major South African cities, making the transition from one destination to another within the country, equally as smooth. In addition, there are a number of safari lodges that have their own airfield, which makes air travel within South Africa even more logical.
Self-fly Travel or Passenger Tours?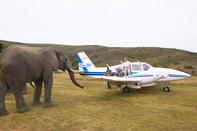 ©Roger de la Harpe
Elephant Back Safaris by African Ramble, Eastern Cape.
Should you self-fly or fly along as a passenger? There are opportunities for pilots to rent an aircraft and use that as an exciting means of travel throughout the country.
Any pilot with an EASA, FAA, or ICAO pilot license will be able to convert to a South African version - ensuring you the freedom of flying across the country. Air transportation will save you long days of travel on the road. You'll be able to move from one place of interest to the next in no time.
Alternatively, non-pilots are able to fly along as passengers with professional pilots. The opportunity to fly as a passenger is available on many group Air Safari tours and you can explore South Africa in a unique way: by air.
The Air Safari tours are several days, starting in the Cape Town and Stellenbosch areas where tour members will spend several days visiting the great wineries, the Cape Peninsula, Table Mountain and ending most of their days dining at some of the well-known restaurant in the cities.
After exploring the Cape, the tour moves to exploring Game Reserves in search of the Big Five then to The Karoo. From The Karoo the tour will fly to Augrabies Falls National Park and stop at either Kagga Kamma or Bushmans Kloof to explore historical bushman painting sites before returning to back to Cape Town where the tour will be concluded. Flying tours are a convenient way to make the best use of your limited holiday time here.
Private Pilot Adventures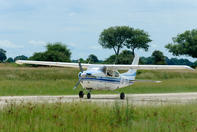 ©Shem Compion
Charter plain on runway, Okavango Delta, Botswana.
There are loads of interesting flying opportunities to be had in South Africa, ranging from a quick scenic glider flight, a hot air balloon trip, an aerobatic flip or a supersonic dash in an ex military jet.
South Africa is also a wonderful place to learn to fly - there are a number of dedicated flying schools, and the favourable exchange rate makes it very affordable for tourists to join in on the fun. In many cases, if you're a tourist you can fly to South Africa (as a passenger), do a full time course and finish it up with an exciting game-viewing or a beach holiday and spend about as much as you would just doing the course alone at home.
South Africa's sunny climate makes it an ideal destination for flying enthusiasts. Most of the country rainfall is mainly concentrated between the months of October and March.
In the Cape region 80% of rainfall occurs between June and August, so for the majority of the year conditions are ideal for private pilots. Clear blue skies means the visibility is excellent, affording great views of the beautiful landscapes below.
Take to the skies to explore the great South African mountains, wooded hills, vast farmlands, arid deserts and thick bushveld as well as its scenic coastal regions. Under South African aviation regulations, banking is only permitted after an altitude of 400ft is reached.
Minimum altitude for flying over airports is 2,000 feet and for flying over open country, including National Parks, is 500 feet - so you can have great views of the flora and fauna below. Before being allowed to fly in South Africa, the Civil Aviation Authority requires that your Private Pilot's Licence be validated, a procedure involving a written test and a practical navigation flight.
One could also charter a plane - the classic South African circuit sets off from Johannesburg and covers Pretoria, Kruger National Park, Durban, Port Alfred, Oudtshoorn, Cape Town and then returns to Johannesburg.
In addition to the pleasures of flying it offers an uncomplicated chance to see wildlife, whales, dolphins ostrich farms and one of the world's most beautiful cities - Cape Town. It is a quick way of seeing the whole country on South African holiday - but a private aircraft can also be used to explore specific areas of South Africa or the neighbouring countries in Southern Africa.