No Private Cars
No self game drives are allowed in the Balule Nature Reserve, which allows you to enjoy a more natural and intimate safari experience, avoiding the crowded tourist traffic that occurs in areas of the Kruger National Park.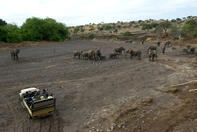 ©Shem Compion
An experienced guide who knows the area intimately shares his knowledge of the bush inhabitants with you, allowing you to get much closer to the game for those perfect photo shots. Being able to go off road also helps with getting closer and follow illusive game. Getting in and out of the Kruger National Park, however, can only be done via the official gates, unless you are one of the wild animals of course.
Balance of Nature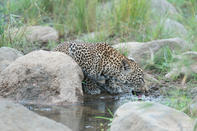 ©Shem Compion
Leopard (Panthera pardus).
Balule Nature Reserve has multiple ecosystems that house a variety of fauna and flora. The subtropical Lowveld region has numerous animal, bird, tree and plant species. In the Balule Nature Reserve, you'll find more than 330 tree species such as baobab trees, mopane trees, fever trees, knobthorns and marula trees in the wooded savannah.
You'll find the animal kingdom well-represented in the area, and you are bound to spot game such as zebra, wildebeest and giraffe as well as predators that include lions, leopards and cheetahs. Hippos and crocodiles frequent the Olifants River and watering holes. More than 200 species of birds are found in the Balule, like the kori bustard, ground hornbill, Pel's fishing owl and the martial eagle.