Part of Greater Kruger
Balule Nature Reserve is a private nature reserve located in the Limpopo Province of South Africa. It shares an unfenced border with the Kruger National Park and is part of the Greater Kruger Park area. Balule is part of an open system covering an area of over 2 million hectares between South Africa, Mozambique and Zimbabwe, where the wild animals are free to roam.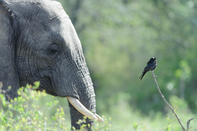 ©Shem Compion
Elephant in Balule Nature Reserve, Limpopo Province, South Africa.
The Balule Nature Reserve is home to much more than the Big Five. With around 94 mammal species, over 200 hundred bird species, the game viewing is astounding. Endangered species such as the African wild dog and Cheetah frequently visit the reserve.
Balule Nature Reserve is also known for its famous large tusker elephants that are commonly spotted in the area. The Balule Nature Reserve supports conservation activities and the Olifants West section of Balule has its own Warden and conservation team. The reserve also has anti-poaching personnel and a scientific research base, and is managed by a committee elected from its landowners.
Balule may not be one of the better-known Big Five reserves on the Western side of the greater Kruger National Park, but that makes for more satisfying game watching....
more
Balule Nature Reserve has multiple ecosystems that houses a variety of fauna and flora. The subtropical lowveld region has numerous animal, bird, tree and plant species....
more