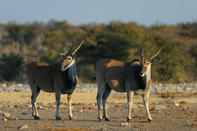 © Shem Compion
The name 'Eland' comes from the Dutch word for elk.
Size
Males 1.7 m at shoulder, Females 1.5 m at shoulder
Weight
Males 700 kg (max 840 kg) Females 460 kg
Lifespan
20 years
Habitat
Versatile
Gestation
9 months
Number of young
1 (very occasionally twins)
Food
Mixed feeders
Predators
Lion and man (young potentially by hyena, cheetah, leopard and lion)
Adult eland (especially bulls) produce a characteristic 'click' noise as they move. This supposedly emanates from their knees although it is poorly understood what causes it and why it happens.
By Megan Emmett