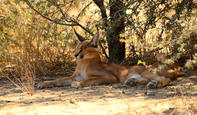 ©Karl Svendsen
Size
+/-0.45 m shoulder height
Weight
8 - 13 kg (F); 12 - 19 kg (M)
Lifespan
Approximately 10 years
Habitat
Open areas including plains, vleis, rocky areas, mountains and mixed woodland. Must have woody cover for hunting or danger evasion.
Gestation
78 days
Number of young
2 or 3 altricial young (up to 4)
Prey
Dassies (53%), antelope like grey rhebok (up to 2x its weight), hares, rabbits, rodents, birds especially sandgrouse, monkeys, reptiles (1%) and small carnivores.
Predators
Larger carnivores, pythons, birds of prey (take young)
Two for One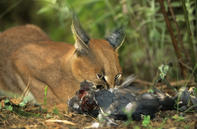 ©Roger de la Harpe
Caracals have a reputation worldwide for their speed and agility in executing aerial bird kills. They have a propensity for ambushing sand grouse and doves at waterholes and will often secure two birds from a 2-pawed swat in just one leap. An ancient Middle Eastern sport even used tamed caracals to this end and hence originated the expression 'to put a cat among the pigeons'.
By Megan Emmett