Paul and Jaena's Wedding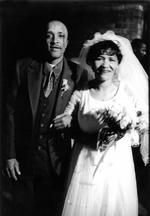 ©Tracey Derrick
Weddings in any society are a cause for a celebration, here in the Swartland it is no different. Here Hendrik Syster shares with Tracey Derrick, photographer, some of his family's times of celebration.
In 1998, Paul and Jaena Johnson are married in Malmesbury, South Africa. Jaena is one of eight children. Her brother Piet Booysen, is married to Hendrik and Louisa Syster's daughter, Rosaline. Tracey Derrick recalls - " I was the only guest at the church as no-one had transport. There was a celebration at the farm afterwards, to which guests walked for miles to be there."
Hendrik Syster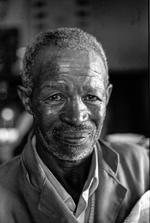 ©Tracey Derrick
Hendrik Syster 2003
Hendrik Syster, is a 7th generation farm worker on Paardeberg Farm in Malmesbury. Hendrik thinks he is 50, but he is probably 70+ years old. He has been dry for over 15 years and is fit and healthy.
Louisa Syster
©Tracey Derrick
Louisa Syster, her grandaughter Kerina and her daughter Rosalie 2001
Louisa is married to Hendrik, seen here with her granddaughter Kerina and daughter Rosaline (Piets wife).
Jafta Hendricks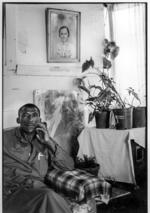 ©Tracey Derrick
Jafta Hendricks
Jafta Hendricks, Piets brother, works for GARC, Goedgedacht Agricultural Resource Centre. They support small scale farmers and rural communities. He has 7 trophies for running in the Calvinia and Moorreesburg marathons.
Hein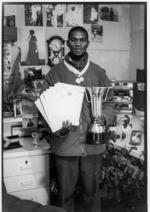 ©Tracey Derrick
Piet's son Hein
Piet and Rosaline's son, Hein, achieved honours at school, then went on to study at Boland Landbou Agricultural School. He later attended Elsenburg Agricultural Training Institute.
Winnie Fischer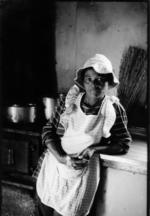 ©Tracey Derrick
Winnie Fischer. in her house
Winnie Fischer Is helped through GARC (Goedgedacht Agricultural Resource Centre) to maintain an organic food garden. "Where I live we have problems with water and we have even cut all the trees down for firewood, thank the Lord for my vegetable garden."By
Tracey Derrick