A Perfect Holiday Destination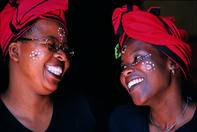 ©Eric Miller
South African Hospitality.
There's almost nothing not to love about South Africa – from its fabulous climate, with sunshine almost all year round, to a wide variety of breathtaking scenery, quaint coastal villages and cosmopolitan cities. Wherever you go you'll have the opportunity to interact with friendly and hospitable locals who will make you feel at home.
Modern Infrastructure

©Eric Miller
While South Africa has a lot of African charm, in many ways it is more in tune with European countries in terms of its excellent infrastructure. The country has an extensive network of railway lines and well-maintained roads, making it great for a self-driving holiday destination.
South Africa has also has excellent international flight connections and there is a minimal time difference when flying from Europe. When you arrive you can have your pick from a wide variety of hotels, small personalised privately owned properties, guest houses and boutique hotels.
Unique Attractions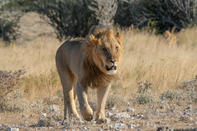 ©Peter Delaney
One of the big 5.
South Africa is the place to visit for a truly exhilarating Big Five African Safari. For those that wish to go on a complete Southern African holiday, you can easily combine South Africa with Swaziland, Botswana, Zimbabwe, Namibia, Mozambique, and the Indian Ocean Islands. South Africa has been pivotal in the creation of vast transfrontier "Peace Parks" involving major cross border conservation initiatives and bringing benefits to the communities involved.
South Africa also offers a lot more than safari drives; you can witness firsthand the emergence of an extraordinary nation through township tours, cultural village and historical site visits. You can also visit the cradle of humankind in Sterkfontein, which is one of the world's most productive and important paleoanthropological sites.
Economically Developed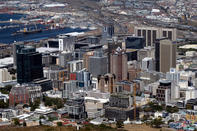 ©Eric Miller
Cape Town City View.
First-time visitors to South Africa are often surprised to find cities full of skyscrapers, multilane highways, and just about all the conveniences and modern infrastructure of home. It's true that the country still has large ghetto townships outside major cities as well as vast rural areas where people live at subsistence levels; but as the country has developed economically since the end of apartheid, more money and jobs, often based on tourism, are trickling down to the parts of the population that need them.
Originally a Dutch then a British colony, the country fought a bitter civil war in the late 1800s before gaining independence. Nearly 50 years of apartheid rule followed until democracy arrived in 1994 with Nelson Mandela as the new regime's first president. Today, although still battling a sluggish economy and high unemployment, this fledgeling democracy is forging ahead with new initiatives to improve its global position and in doing so is providing a cautiously optimistic outlook for the future.