Going on an African safari is bound to be one of the most adventurous trips you'll ever take. We've used our extensive knowledge to give you tips and answer the most frequently asked questions about African safari holidays.
When to Go
©Shem Compion
Sabi Sands game drive in Kruger National Park.
Summer - that is, November through February, is high season in South Africa because that's when South Africans take their vacations. However, the weather can be hot, with temperatures frequently reaching 100°F in January and February. The winter months, July and August, are mild and traditionally the best time for viewing game.
Winter months are also perceived to be low season, and therefore, fewer tourists frequent the private lodges. In fact, this is a superb time for game viewing and you can find some great deals. Keep in mind though that in July temperatures in Kruger can dip down to the freezing point.
Pack Light
Light, neutral-colour clothes are universally worn on safari. Khaki-colour clothing was first used in Africa as camouflage by the South African Boers, and then by the British army that fought them during the Boer War. The khaki colour replaced the famously conspicuous redcoats of the British and helped them blend into the open veld. Light colours also help to deflect the harsh sun and, unlike dark colours, are less likely to attract mosquitoes.
Start with these basics when you're packing: for summer, two pairs of shorts (skirts or sarongs called kikois in Kenya - are great too); two T-shirts or short-sleeve khaki shirts; two long-sleeve lightweight shirts for sun and bug protection; two pairs of long pants; sandals; sneakers or light boots, depending on what type of safari you're taking; a sun hat or baseball cap; and a light rain jacket or Windbreaker. On some safaris, dinners are dressy so ask your travel agent about what to expect and pack appropriately.
In winter, eliminate the shorts and add a warm jacket, a sweater or sweatshirt, lightweight and warm, fleece is an especially good choice, gloves, and a warm hat.
Think Game Walk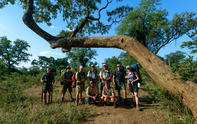 ©Shem Compion
Hiking in safaris with back pack.
Many safari operators offer the option of going on a game walk in addition to, or instead of, a game drive. Pack sturdy but light walking shoes or boots—in most cases durable sneakers suffice for this option. Buy them well in advance of your trip so you have time to break them in.
If you're going to walk in the bush remember that it's full of tiny things that crawl and bite. Spray insect repellent on your shoes, socks, and legs up to your knees, even if you're wearing pants, before you set off for a game walk or evening drive. If you've been out on a walk it's a good idea to take a hot shower and soap your entire body when you return. Also, if possible, isolate the clothes used on your walk from the remainder of the clean garments in your bag. Bring a couple of large white plastic garbage bags for dirty laundry.
Leave Your Toiletries at Home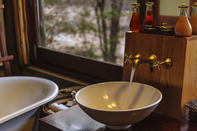 ©Roger de la Harpe
Many safari camps provide toiletries.
Most hotels and game lodges provide toiletries such as soap, shampoo, and insect repellent, so you don't need to overpack these items. In the larger lodges in South Africa, in the national parks as well as the private game reserves, stores and gift shops are fairly well stocked with clothing and guidebooks.