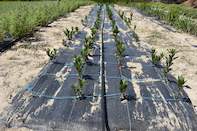 ©Louise Brodie
Bay leaf cultivation on weed nets for essential oil production.
The various types of crops are produced as field crops. The soil preparation, planting, management and harvesting is done according to the specifications for each different crop. As there are a wide range of plants grown for essential oil production, producers would need to establish which of these is suitable for production in their specific growing climate.
To ensure optimal soil preparation, it is advisable to have soil samples analysed to determine whether the soil is suitable or whether it requires any form of correction in terms of mineral content, pH balance or compost/fertiliser. Producers will also need to practice weed, pest and disease control during the crop growth period.
Essential Oil Production Regions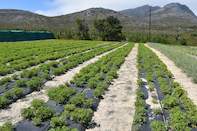 ©Louise Brodie
Rose Pelargonium propagation for essential oil production.
Essential oils are produced in warm regions throughout South Africa and essential oil crops flourish in subtropical, Mediterranean and temperate regions. Essential oils - Crop Production is done in all the South Africa's provinces except in arid regions such as the Northern Cape and the Northwest Province.
In regions with high rainfalls producers generally do not need to irrigate the crops. However, in most regions, crops require irrigation to produce enough growth for good oil yields.