Durban/Johannesburg to Drakensberg      
Explore the Drakensberg with this Drakensberg Experience Route suggested itinerary, that offers breathtaking mountain views, top attractions and meet intresting people along the route.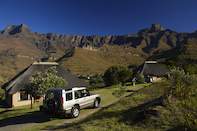 ©Roger de la Harpe
Tendela Camp in the Royal Natal National Park.
Drive yourself to a UNESCO World Heritage Site, the uKhahlamba Drakensberg Park and journey along the Open Africa Drakensberg Experience Route. Known as the "Dragon Mountains" to the Afrikaners or the "Barrier of Spears" to the Zulus, the Drakensberg mountain range has exceptional natural beauty in its soaring basaltic buttresses, incisive dramatic cutbacks, and golden sandstone ramparts.
Rolling high altitude grasslands, the pristine steep-sided river valleys and rocky gorges also contribute to the beauty of the site. The site's diversity of habitats protects a high level of endemic and globally threatened species, especially birds and plants.
This spectacular natural site also contains many caves and rock-shelters with the largest and most concentrated group of paintings in Africa south of the Sahara, made by the San people over a period of 4,000 years. The rock paintings are outstanding in quality and diversity of subject and in their depiction of animals and human beings.
They represent the spiritual life of the now extinct San people. It is here in these dramatic mountains that you will find the Tugela Falls, this 947m waterfall is the second highest in the world, only a mere 32m off Angel Falls at 979m.