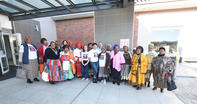 © Aaron Polikoff
SouthAfrica.co.za intern Carla Lottering reflects on a day spent with a group of dynamic, spirited grandmothers from the Grandmothers Against Poverty and Aids (GAPA) group at the Marimba Jam Women's Day event, co-sponsored by Siyabona Africa and SouthAfrica.co.za.
A Special Day
There are moments in life that humble you - listening to a grandmother tell her life story is one of those beautiful moments in life that shakes you to the core in the most grounding way and leaves you in awe of the generation that made you.
Spending a day with 30 grandmothers who have faced unimaginable pain and suffering, smiling up at you as they tell you about their favourite type of tea, how their children are and how big their vegetables grow, leaves you with the fullest heart and newfound admiration for the most formidable women of a community.
In many South African cultures, grandmothers form the backbone of their communities. They are the strong, resilient figures in the family and play a vital role in raising the next generation with what little resources they have.
South Africa Online ® had the privilege of hosting 30 grandmothers from Langa and Khayelitsha on Women´s Day as part of a special outing to celebrate the lives of these phenomenal ladies. The dedicated SouthAfrica.co.za staff members attended to their every need, while learning what it means to be a strong, empowered woman in South Africa.