C4 Photo safaris is the oldest specialist photo safari operator, offering the best photographic experience in Africa. With various safari destinations around Africa, C4 Photo safaris specialises in wildlife, landscape and culture photo excursions in South Africa at renowned locations in Tswalu Kalahari, Sabi Sands, Cape Town, Garden Route and Timbavati.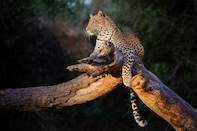 Each of their safaris is hand-crafted to suit the exact requirements of their clients. C4 Photo Safaris' reputation is forged on excellent service delivery, thorough communication and a highly personal touch.
When you travel with C4 Photo Safaris, you enter into our world of wildlife, where they have spent innumerable hours in studying its whims and understanding its nature.
Packages on offer include premier photo safaris, classic photo safaris and photography workshops, as well as custom photo safaris that you can tailor to suit your needs. C4 Photo safaris has also built various gorgeous photo hides at exclusive safari destinations, that maximises the photographic potential of the subjects that visit them.
For C4 Photo Safaris, photography is a medium through which to express their love for the natural ways of this continent. When you join a safari with them, it is as much about sharing the 'large and hairy' as it is about the small nuances that make your eyes widen in amazement.