C4 Photo safaris offer customers a renowned photography experience in nature. With a dedicated team of experts on hand, photography-enthusiasts will be happy to know that they will get to see the wildlife of Africa through a lens of their own.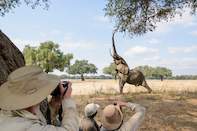 C4 Photo safaris ensures absolute confidence for clients booking a photographic safari with photo safaris that are planned, arranged and hosted by professional photographers who understand the special needs of photographers.
They offer access to exclusive concessions that provide amazing wildlife photographic opportunities, as well as specialist photographic help and knowledge in the field - they use only the most experienced photographic guides to host their safaris. Custom photo safaris are also on offer, and these bespoke trips are designed in consultation with clients so that the safari will meet their exact and precise needs, and one of the C4 professional photo guides can accompany you on your safari.
Furthermore, C4 Photo safaris assists with insurance cover by SATIB and corporate membership of SATSA - the South African industry accreditation of best practices in tourism.
The C4 Photo safaris team is made up of experienced and internationally-recognized wildlife photographers that provide photography services with the utmost professionalism. Many have won international awards and have published numerous books on wildlife and landscape photography. They are sure to offer you excellent service and guide you along your journey of safari photography.