A lot of people find satisfaction in biking, skiing or simply hiking up a mountain but some daredevils among us prefer leaping off bridges and gorges as a source of adrenaline.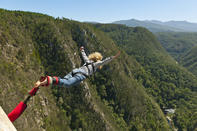 ©Roger de la Harpe
Bungee Jumping, Bloukrans River, Eastern Cape.
Bungee jumping, as you probably know, is diving head first off a bridge attached to a large, thick, very strong elastic band and back-up climbing ropes, just in case. For those who fancy a slightly different leap into the unknown, you could try bridge swinging or gorge swinging.
If you're wondering what the difference is, bridge swinging is swinging from one bridge by ropes (or bungies) attached to an adjacent bridge. A safety harness is attached your waist and a specialized rope is attached to the adjacent bridge which usually about 20 or 30m away from you.
Gorge swinging is swinging into a gorge on a rope suspended from a cable strung across the gorge. Granted with both alternatives to bungee jumping you're still jumping but it's not as terrifying!
Bungee Jumping Locations
©Roger de la Harpe
Bungee jumping is quite an extreme activity that requires specific location requirements, as such, there are a limited number of commercial spaces for bungee jumping in South Africa. However, what the country lacks in number, it makes up for in the quality of the experience.
Located in the alluring scenery of the Garden Route, the Bloukrans Bridge in the Eastern Cape Province offers adrenaline seekers a jump of 216m.
Navigating through the walkway onto the supporting arch of the bridge, from where you jump, will be the first test for your nerves.
This is the highest commercially operate bungee jump in the world. Due to the extreme height of this jump, the traditional ankle harness is replaced with a full body harness as an added safety precaution.