Landmarks in the North
Baobab Hill - A distinctive landmark, this was the first outspan on the Witwatersrand Native Labour Association route to the Soutpansberg, 1919-1937. Located between Pafuri border post and Punda Maria. Crooks Corner - The name given to a thin piece of land that juts out into the cross-border region between South Africa, Zimbabwe and Mozambique.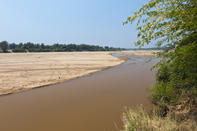 ©Roger de la Harpe
Crooks Corner on the Limpopo River, Pafuri, Kruger National Park.
It was a lawless place, frequented by unsavoury characters, and a well-known stop on the famous Ivory Trail. Located in the far north of Kruger Park. Klopperfontein Drift - A little oasis in the bush, used as a camp by hunters on the Ivory Trail, including Cecil 'Bvekenya' Barnard. Named after Hans Klopper, who often camped here.
Located near Punda Maria. Theba Recruitment Station - Gathering point for Mozambican workers en route to the mines of the Witwatersrand, part of the Witwatersrand Native Labour Association (WNLA) labour route. It is located at Pafuri border post.
Central and Southern Landmarks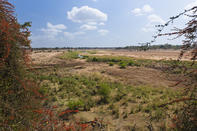 ©Roger de la Harpe
Letaba River view from Letaba Rest Camp, Kruger National Park.
Doispane Outspan - A resting place on the wagon road between Doispane and Skukuza. Gaza Grey's Outpost - A member of Steinaecker's Horse, Gray was one of the first men that James Stevenson-Hamilton visited, to better gauge conditions in the Lowveld. Located near Lower Sabie.
Glen Leary Site -In July 1926, Harold Trollope (a wealthy park benefactor) camped at Fihlamanzi outspan on the Old Transport Road, accompanied by his father-in-law, John Glen-Leary. A few days later, Glen-Leary was fatally injured by a leopard on a tributary of the Hlambanyathi spruit. Harold Trollope Hut - Tourist hut in Malelane rest camp, named in honour of Big Game hunter and landowner, Harold Trollope, who supported the establishment of the Kruger and Addo Elephant National Parks.
Josikhulu Drift - An overnight station for black porters, who carried trade goods through the Kruger National Park. As part of Joao Albasini's empire, the eponymous Josikhulu was installed as the resident tribal authority. Later, the station was run by Thomas Hart, who was killed by local tribesmen after an argument over a stolen rifle. He was 22 years old.
Located near Pretoriuskop. Rabelais Hut - An old entrance gate to the park, operational from in 1926 until 1954, when the Kruger National Park was expanded. The original 'reception' hut still stands, and contains a number of interesting info boards about the Orpens and the early days of Kruger Park.
Check out the prices in 1932: 2/6 for the use of the rest camp hut, mattresses were a shilling and Blankets cost sixpence. Located near Orpen Gate. Steinaecker's Horse Camp - Campsite used by the irregular force that patrolled the region during the 2nd Anglo-Boer War. It is located near Pretoriuskop. Various other forts and campsites relating to Steinaecker's Horse have been identified in the region. Struben Cottage - an old guest house in Skukuza rest camp, named after Fred and Harry Struben, two pioneers of the Witwatersrand gold fields. Built in 1937, it has now been restored and is available for hire.
WA Campbell Tourist Hut - One of the early huts for overnight visitors at Skukuza. It was built in 1929 at a cost of R300, and was sponsored by WA Campbell, one-time owner of MalaMala. Witwatersrand Native Labour Association posts at Letaba and Nwanetsi - Holding camps and rest stops for migrant labour trains from Mozambique, organised by the Witwatersrand Native Labour Association (WNLA).
By
David Fleminger