Abseiling and Rap Jumping 101
Abseiling has matured into a sport and recently become a popular South African holiday activity. Abseiling is the art of lowering oneself safely down a rope.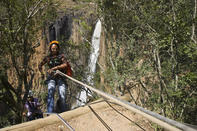 ©Roger de la Harpe
Abseiling at Howick Falls, KwaZulu-Natal.
It used to be a method for climbers to get off cliffs, cave explorers to travel underneath the world and military task-forces employed it for all kinds of operations. Since then, abseiling has become commercialized as a daring activity and sport to make your way down a mountain cliff.
When abseiling you will wear a climbing harness, which is clipped onto the rope with a descending device. Then you will walk backwards down the cliff (or building), supported by the rope and slowly lower yourself down.
Most commercial abseils are belayed which means that if you were to just let go in panic, the trip leader could still safely lower you down remotely, either from above or below. These abseils tend to also have an overhang which means you can spend some time suspended in the air - slowly lowering yourself down. There are a number of very scenic and challenging abseils to experience across South Africa.
Abseiling Locations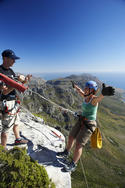 ©Roger de la Harpe
Abseiling off Table Mountain, Cape Town.
A short distance from Knysna there is Storms River Gorge in Tsitsikamma National Park, Western Cape, with its fantastic scenic views.
You can do a combination of abseiling and kloofing (canyoning) down the gorge which involves a 100m abseil into the ravine, a tubing trip down the river, a short walk out of the gorge and then a cycle back to the village.
The ultimate adrenaline and scenic rush is hanging out high over Cape Town abseiling from Table Mountain. The 'long drop' is 112m high - and about a kilometre above the city - making it the world's highest commercial abseil. Johannesburg (and Durban in KwaZulu-Natal) are cities that offer you the experience of abseiling or rap jumping off skyscrapers.
You can also explore the Karkloof Nature Reserve waterfall in Kwa-Zulu Natal. It has a descent of 54m and at Howick Falls there is a daring drop of 107m.
In comparison to other abseiling experiences in the country, Hazyview, Makuhlu descent doesn't seem that high until you try it! At 27m, this abseil is great for first timers looking for an adrenaline rush.
Rap Jumping
Why abseil when you can face your fears head on with rap jumping? Rap jumping, also known as forward abseiling, air-borne rappel jumping or rappelling, is a more adventurous version of abseiling.
It offers the daredevil type a tap into the full adrenaline experience - it's abseiling back-to-front. Instead of the rope being attached to your stomach, it's attached to your back so you make your way off the cliff facing down.
You can walk (or run if you prefer) down the precipice like your favorite heroes in Hollywood movies.
Safety First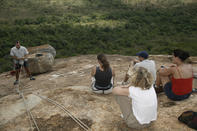 ©Roger de la Harpe
Tourists being briefed prior to abseiling, Mpumalanga.
Abseiling is rated as one of the more dangerous activities when it comes to climbing due to the load strain on the rope, and safety procedures are as critical as in any other adrenalin activity. Always perform the Five-point check below, and never feel shy to run this past the guide:
A is for Anchor - is it failsafe and is the rope and belay securely attached?
B is for Buckles - jerk on your harness buckles to check they are secure
C is for Carabiner - make sure the screw-gate is tightened and secure
D is for Device - check your descender setup
E is for Everything Else - gloves on and helmet strap fastened?