©Sussex Cattle Breeders Society of South Africa
Sussex are known as a trouble free breed, because of their docile temperaments.
The Sussex cattle breed is one of the oldest and purest breeds of English cattle, and is now a large part of the beef production industry in South Africa. According to The Cattle Site, it is thought to have descended from the horned red cows once found throughout much of southern England, inhabiting dense forests of the Weal land of Sussex and Kent. These cattle were used as draft animals for several years before being primed for beef production from the age of six.
Serious development of the breed started in the 1800s, when breeders started giving more attention to beef production. A Sussex Herd Book was established in 1878 with pedigrees dating from 1855.
Production in South Africa
The first Sussex cattle, which included twenty cows, were imported to South Africa in 1903, by Alec Holm of the Potchefstroom Agricultural College. His task was to select a breed that could adapt to the South African climate.
Six years later, additional cows were imported and by 1920 about 85 bulls had already been sold to farmers. Over time, various breeders decided to better liaise with one another, resulting in the establishment of the Sussex Cattle Breeders' Society of South Africa in May 1920.
Attributes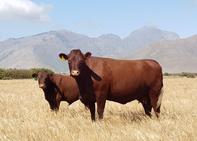 ©Sussex Cattle Breeders Society of South Africa
The cows have excellent maternal traits.
The Sussex is an early maturing, medium-sized beef animal, with a smooth, highly hereditary deep red coat and white tail. The breed has an excellent temperament, which makes them easy to handle and has resulted in their "trouble free" reputation.
The cows are famous for their maternal instincts, with ample supply of milk and consistently high calving rates, showing their excellent fertility. The bulls show strong muscling character and depth.
The Sussex animals are naturally horned, so breeders have to comply with the rule to dehorn. An increasing number of breeders make use of polled bulls to implement the polled genetics into their herds. Semen from polled bulls has been imported and there is currently a pool of different polled genetics available.
Sussex matures early, which allows the breed to be marketed off veld or pastures; it is an economical converter of concentrate feeds, and attain weight gains, which make the breed highly sought after by feedlot operators.
Production Regions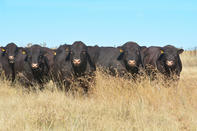 ©Sussex Cattle Breeders Society of South Africa
The bulls have good masculinity and depth.
Sussex Stud breeders can be found in all nine provinces of South Africa, as well as in Namibia, Zimbabwe and Botswana, providing to the needs of commercial cattle farmers.
Sussex animals thrive under extreme African climates, like the severe cold of the Drakensberg and Eastern Cape mountains through to the sands of the Kalahari and the bushveld. As well as the tropical KwaZulu-Natal to the Karoo and everything in between. This confirms their remarkable adaptability.
Use
The Sussex animals perform well either as a pure breed or when cross-bred. Bulls deliver high pre-potency, hardiness, good weaning weights and excellent post-weaning growth. Sussex bulls are highly recommended to all cross-breeding programmes to add additional weaning weight.
Sussex bulls with the $X brand mark on its left shoulder comply with the performance standards set out by the Sussex Cattle Breeders Society of South Africa and have been visually inspected by a Senior Inspector of the Society. The $X brand is a quality assurance mark for each animal and when using Sussex bulls, farmers should ensure that the animal has been branded with the $X mark.
The major function of the Sussex stud breeder is to provide bulls to commercial beef producers with superior genetics, which are functionally correct and which improve beef qualities and profitability.
Meat Quality
The Sussex breed produces good quality meat.
For bulk or Sussex Beef export enquiries please use the enquiry link below.