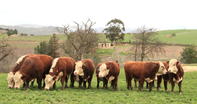 ©Glenneis Kriel
Hereford cattle produced near Villiersdorp in the Western Cape.
South Africa has a rich heritage of beef production, with cattle being used in the past and even today to measure people's wealth and in some cultures to pay a bride price, called lobola. Production takes place almost across the country, with different breeds being suited to different climatic conditions and areas.
There is also a large variety of farmers, ranging from subsistence to large commercial producers and breeders.