Chic Convenience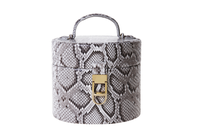 Pair sophistication with a hint of personality with this stunning python leather vanity bag. Made out of this highly sought-after skin, it's available in a host of colours to suit diverse tastes.
If travelling is your bag, you'll delight in the versatility of this piece and its unique circular shape.
Invest in this python bag and own a piece of timeless quality.
Priced From: US$3310