Beauty and the Bottle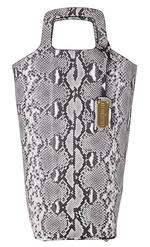 It's often the little things that denote taste and sophistication. Carry your wine in style with this python leather bottle bag, a must-have for the phenomenal host!
Able to carry two wine or champagne bottles, it is a notable addition to any tastemaker's party arsenal.
Buy it in one or more colours and make an elegant impression occasion after fabulous occasion.
Priced From: US$3960