The Earth and You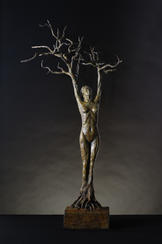 Fill a space with beauty, symbolism and expression when you procure this stirring bronze sculpture.
This conceptual piece depicts a feminine figure transforming into, or perhaps emerging from, a tree — an evocative illustration of the inextricable link between humans and nature.
The artist behind this work is a master at creating imagery that allows the beholder to wonder, consider, resolve and feel.
Priced From: US$6250
By Bruce Little