Highlight of Mapungubwe Park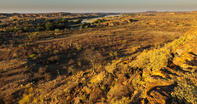 ©Roger de la Harpe
A highlight of the Mapungubwe National Park is the confluence of the Limpopo and the Shashe rivers, the place where three countries meet. To take in the awesome view, the park has built a series of large wooden platforms on top of the tall escarpment that looks out onto the floodplain.
As you stand on the lip of the ridge, Botswana is to your left and Zimbabwe is to your right. A small white beacon on the little island in the middle of the confluence shows the exact point where the three countries conjoin. But from the decks, high above the scene, the importance of these arbitrary geo-political boundaries seems to dwindle into nothingness.
They are just lines that exist only in maps and men's minds. Instead, this is the meeting of two dramatic rivers. Cutting across the plain from east to west is the 'great grey-green greasy' Limpopo, as Rudyard Kipling so alliteratively put it. From the north comes the wide, sandy floor of the Shashe, which only flows when it comes down in flood. One day, when the fences have been torn down, wildlife will be able to re-establish some of their natural migratory patterns across this vital water course.
Picnics and Viewpoints in Mapungubwe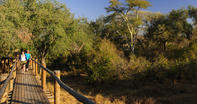 ©Roger de la Harpe
The confluence in Mapungubwe National Park is also the location of a picnic site for day visitors. A number of tables and benches have been built under attractive thatch canopies, and there is a small shop which rents out gas braais. The shop should also sell basics like cold drinks and snacks, but is not always open.
There are four decks (Sunrise, Main, Confluence and Sunset) and each one offers stunning views over the confluence. The atmosphere is peaceful and if you are quiet, you can hear the tinkling of cow bells drifting across from Zimbabwe. On the other side of the picnic site is another walkway which leads to the Pinnacle Deck. This viewsite looks out over the interior of the park; a red, rugged landscape filled with valleys and trees. Although not as dramatic as the Confluence lookout, it is well worth the short walk.By
David Fleminger