The vibrant township of Langa in Cape Town, South Africa is home to various prominent jazz musicians, spanning from the 1940's into the early decades of the 21st century. When the township was formed, due to apartheid regulations, jazz music was developing and simultaneously Langa jazz flourished.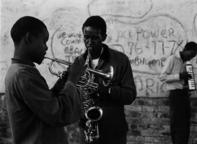 It portrayed the emotions of musicians struggling for freedom and finding comfort in the jive, lively sounds of jazz. Mixed with traditional South African beats, Langa jazz became a unique sound that incorporated Western jazz, swing beats, gospel, African vocals and chords. SouthAfrica.co.za shares the stories of pioneering Langa Jazz Legends.
With photographs dating back to the 1940's, we honour the musicians who created and upheld the jazz sounds of Langa. Although many of the musicians may have passed on, their legacy will forever be remembered and celebrated through their music.