Picnic Sites
Tshokwane Picnic Site - James Stevenson-Hamilton said: "In 1902 a large number of native kraals stood in the vicinity, but a series of drought years had gradually pushed them westwards to the better-watered country outside the reserve. By 1910 only old man Tshokwane himself, with his family, remained. He was a man of between 70 and 80 and a mine of local history.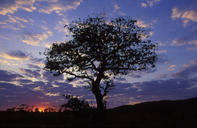 ©Nigel Dennis
Dawn over plains at Tshokwane, Kruger National Park.
After Tshokwane's death, in about 1915, his family moved away, and the place was left entirely to the wild animals." Afsaal Picnic Site - An old outspan on the Old Transport Road, this modern Kruger National Park picnic site boasts an intact, if crumbling, ox-wagon on site. Food, drinks and snacks are usually available.
Makhadzi Picnic Site - New picnic spot built to serve traffic between Letaba to Giriyondo border post. Contains an interesting series of info boards on the cross-border region and Steinaecker's Horse (the irregular troop that patrolled the area during the Anglo-Boer War). Old Shawu Picnic Site - Disused picnic site and tea room, named after one of the area's famous 'Big Tuskers'. Located near Boulders.