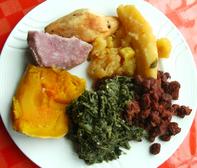 © Anna JB
A traditional African lunch of taro, sweet potato, plantains, pumpkin, amaranth and beans.
Indigenous vegetables have sustained rural families over the centuries, adding to nutrients to traditional diets. Unfortunately, over the years, cultivation of traditional vegetables, often also associated with poverty, have been replaced with Western vegetables and store-bought produce. The lack of research and development to commercialise these vegetables added to the decline in use.
However, there is a renewed interest in the benefits of indigenous vegetables - rich in nutrients, easy to grow and adaptable to local growing conditions.
With this expanding series of articles on indigenous vegetables available in all 11 official South African languages, SouthAfrica.co.za aims to promote indigenous knowledge of traditional crops to improve nutrition and cultural pride in our traditional food heritage.