Heritage Site Locations
Early iron-age African villagers were actively mining copper, gold, mica, ochre and other useful materials in the Kruger National Park for centuries.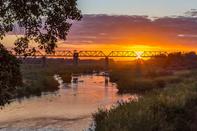 ©Chris Daly
Selati Railway Bridge, Kruger National Park.
In more recent times, Europeans entered the region looking for diamonds, gold, copper and anything sparkly. There were certainly plenty of gold rushes nearby – Pilgrim's Rest, Barberton, Leydsdorp – but most Kruger National Park treasure seekers left with empty hands and broken hearts.
Ben Viljoen Attack Site - On 16 Sept 1900, at the height of the 2nd Anglo-Boer War, General Ben Viljoen destroyed his artillery and ammunition to prevent them from falling to the approaching British army under General Pole-Carew. Located east of Malelane.
Frans de Kuiper's Attack Site - De Kuiper's expedition from Delagoa Bay to Ciremandelle (Phalaborwa) was rudely interrupted when Chief Dawano attacked the European party at Gomondwane. Heavy fighting ensued and De Kuiper had to retreat back over the Lubombo. He is also recorded as Francois de Cuiper or de Kuyper. Located near Crocodile Bridge.
Crocodile River Bridge - Old railway bridge over the Crocodile river, constructed as part of the Selati Railway, now partially collapsed. Visible from Crocodile Bridge rest camp.
A dip tank - built during the Foot and Mouth disease outbreak in 1938. All foot traffic (human and animal) had to wade through the disinfectant dip before crossing the border with Mozambique. The name is a mixture of Afrikaans and XiTsonga, meaning 'at the diptank'. Located near Shingwedzi.
The Incredible Isivivane - The Zulu name for a traveller's cairn. Custom states that you must place a rock on the pile each time you pass, as a sign of gratitude and good fortune. As they grow in size, these inviting stacks of stones act as waymarkers through the bush. They are commonly found throughout South Africa. In the Kruger National Park, there are old Isivivane marking the ancient footpaths to Matukwala as well as Sofala and Inhambane.
Manungu's Kraal - A nominal chief, Manungu, was installed in the vicinity of Pretoriuskop by Joao Albasini to oversee his lucrative trade network.
Filamanzi (Hidden water) and First Borehole - A well-known outspan point on The Old Transport Road. The first borehole in Kruger National Park was dug at Sabi Bridge (now Skukuza rest camp)
Mitomeni Dam - The first concrete dam in the Kruger National Park, built by M. Roland Jones, supervisor of Pretoriuskop, at Mitomeni Spruit in 1931/32.
Rabelais Dam - A defunct reservoir, built before environmental assessments were common and located in a region with sensitive soils. After a destructive flood in 2000, it was decided to demolish the dam and allow a smaller pan to develop naturally. Located near Orpen Gate.
Skukuza Clock Tower - Built in 1937, this clock tower made of sandstone blocks is in memory of Herbert Boshof Papenfus KC, 1865 – 1937. Member of parliament, friend to all animals and birds, and a founding member of the Parks Board. Located in Skukuza.
Phabeni Gate - Entrance gate opened in 2002 to improve access for guests arriving from Gauteng. Named after a Swazi chief who gave his name to the adjacent stream.