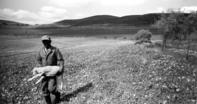 ©Tracey Derrick
Henrick Syster in 2001
Piet and Hendrik are farm labourers, they live on the farm where they work and through them, I have got to know other workers in the valley - most are related in some way or another. Being with Piet and Hendrik, I recognize that, despite the new post-apartheid regime, many hardships still persist on the farms. This complex heritage has left behind various forms of entrapment, like alcoholism. Historically derived from the 'dop' system - where laborers were paid in measures of cheap wine - the damage of this inheritance is still manifest on most farms in our valley.
Problems Accumulate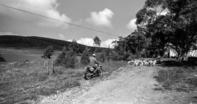 ©Tracey Derrick
Piet Booysen
Their community must wrestle with other problems too: land tenure, poor housing, low wages, racism and change. Poor education makes it difficult for them to understand the potential of new legislation, and with no disposable income they have few opportunities to make real choices in their lives.
Many of the new laws brought in to protect them have hurt their community more than help - for example, minimum wages have resulted in many farm workers being retrenched; land rights have resulted in workers being responsible for their own housing.
So, many years into the new democracy, it seems that those who work to feed us in South Africa, have yet to reap any benefits from the new dispensation. - Tracey Derrick - 2009