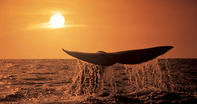 Introduction
Spectacular coastal scenery and mountain fynbos put on a fine show, but the stars of this South African holiday route are the southern right whales that, between June and November each year, swap their chilly Antarctic feeding grounds for our warmer, protected bays where they mate, calve, breach and lobtail, sometimes just metres from the shore.
It's hard to imagine 60 tons of solid matter frolicking, but that's certainly what it looks like. Of course, experts have various theories, but we think they do it... well, because they can. This South African holiday route hugs the coast through the most crowded parts of this giant whale nursery, where in season you can see up to 20 at play at a time.
We weren't always this lucky - whale hunters took a devastating toll on numbers from the 1800s onwards, and as whales with calves were the main targets, the population plummeted. Thankfully the southern right became a protected species in 1935 and now the whales are back, with more and more.
Time:
This is a weekend route, but if you have the time, give yourself an extra night or two in Hermanus, especially if you want to do any boat trips or go diving with sharks, or opt for gentle indulgences like some wine tasting.
Distance:
Approx 420km, excluding driving within towns
Best time to go:
June to November is prime whale season, with calving in August and September, and whale numbers peaking in October. Spring in September and October turns the countryside into a spectacular kaleidoscope of floral colour.
Whale-watching
Unlike humpback and Bryde's whales, southern rights have no dorsal fin, and unless they're performing, they look more like hippos than whales. Recognise them by their callosities, those rough, whitish raised patches dotted around their heads. Hope for a calm, windless day, when whales tend to come closest to shore (although they're often more lazy then too). Blows are usually the first things you see. Whales are particularly obliging when breaching, as they tend to do it several times, allowing you to set up your camera!
The Route
Watch aquabatic displays by southern rights who frolic along the coast from Gordon's Bay to Hermanus, Arniston and L'Agulhas, the southernmost tip of the African continent.
Day One
Scenic drive via Gordon's Bay and the Harold Porter National Botanical Garden to Hermanus
Lunch while watching whale aquabatics in Walker Bay
An afternoon of pleasure on you South African holiday - whales, wines and shopping
Overnight in Hermanus
Day Two
Explore Stanford and visit a brewery
Whale-watch through Die Kelders and Gansbaai
Visit Elim, a national monument mission village
Stand at the southern tip of Africa at L'Agulhas
Overnight in Arniston, or fast-track back to Cape Town on the N2. Make this a longer adventure by linking this route to the Golf, Adrenalin or Country Routes via Swellendam
Reading list
Hermanus Info is a handy booklet available at tourism bureaus, with absolutely every detail and phone number. There are several good guides to whales, like Whale Watch: A Guide to Whales and Other Marine Mammals of Southern Africa, by Vic Cockcroft and Peter Joyce (Struik), and Whale watching in South Africa, by Peter Best (Mammal Research Institute, University of Pretoria). Peter Slingsby has produced a very helpful map called The Overberg Whale Coast (Baardskeerder), with information on Hermanus, Cape L'Agulhas and Swellendam. Kogelberg Biosphere Reserve: Heart of the Cape Flora, by Amida and Mark Johns (Struik).
Day 1 Waterfront to Betty's Bay - 1hr 15min
From the Waterfront, turn left onto the highway following N1 Paarl then N2 Somerset West. At just over 40km, take Exit 43 Somerset West, Broadway Boulevard, Stellenbosch and turn right at the traffic lights onto R44. (Alternatively, skip Strand and stay on the N2 till about 50km, turning right to Kleinmond and Gordon's Bay, but the following mileages are based on the route via Strand.) At the third set of lights turn right into Beach Road to Strand Beachfront. Turn right at circle, right again at the traffic light (50km) onto R44, Gordon's Bay road. When road splits at about 53km fork right to Faure Street, signed Bikini Beach.
Follow Gordon's Bay Beachfront, T-junction right (R44), and watch False Bay unfold before you. A warm water whale route could start in Muizenberg, following the coast road all along the curve of False Bay, but for those lacking the time, remember there's really good stuff ahead, so brave the freeway frenzy to fast-track to the Strand (Afrikaans for 'Beach'), Gordon's Bay and the scenic Clarence Drive. From Gordon's Bay, the Hottentots Holland mountains almost trip over this serpentine road as they tumble into the sea.
Across False Bay you can see the spiny ridge of the Table Mountain chain snaking all the way to Cape Point in the far distance, and here's where you can start whale-watching in earnest - in season there's a good chance of seeing a whale or two lazing in the sea below. Clarence Drive flashes past the holiday village of Rooiels (named after the red alders that used to grow here), to the turn-off to Pringle Bay and Cape Hangklip, where the road leaves the sea for a while to make a detour inland. The steep sentinel of Cape Hangklip (Overhanging Rock) marks the abrupt end of the Hottentots Holland mountain range, whose caves and valleys were once a refuge for slaves who escaped their owners in Cape Town.
Betty's Bay straggles along for several kilometres, in the middle of which you'll come upon the Harold Porter National Botanical Garden, a great, fynbos-filled place to take a break (entrance fee charged). There's a tearoom, a souvenir shop, a great  indigenous nursery and a plant information centre. The beautiful gardens have several walks which meander among the waterfalls and pools that form a chain down to the sea.
Betty's Bay to Hermanus - 40min
Continue along the R44, passing Kleinmond at about 99km. At the T-junction turn right on the R43 to Hermanus. Pass Fisherhaven, Hawston, Vermont, Onrus River. Enter Hermanus at about 132km. At 135km, you're forced left at the traffic lights. Turn next right into Market Street, right again into Kusweg and park on Market Square. Hermanus is the self-styled centre of the whale-watching universe, tucked into the most protected corner of Walker Bay, which has been recognised by the World Wide Fund for Nature (WWF) as one of the world's top 12 whale-viewing sites.
The town has a fun - if busy - buzz, especially in season, and you'll almost always find the rocks thronged with people staring out to sea, not daring to blink in case they miss a breach. You can also get up close and personal. These marine giants sometimes come within 10 metres of the shore, so haul out your binoculars and get a front row seat. If you're hungry by now you can whale-watch over your plate of seafood at several sea-view restaurants on Market Square overlooking the Old Harbour.
Sit outdoors at The Burgundy or walk a couple of hundred metres further, with the sea on your right, and then down some stairs to Bientang's Cave, a restaurant built in a cave, once home to a Strandloper, immediately above the rocks and waves. You can't get closer to the whales than this. But if you can't see any whales, just listen. Hermanus is the only town in the world that employs a whale crier, Wilson Salukazana, who blows a kind of Morse code on a kelp horn to indicate exactly where the whales are. You'll spot him walking along the coastal cliff, wearing sandwich boards that explain the code.
Spend the afternoon watching whale aquabatics, wandering around town or doing some of this good stuff: Hit the water and go whale-watching by boat. Licensed operators are allowed within 50 metres of a whale (private boats must stay 300 metres away), but there's every chance the whales will come closer to take a look at you. There are two operators based at the New Harbour. Follow the coast road (Kusweg) with the sea on your left for about three kilometres to the New Harbour.
Try Southern Right Charters on Miroshga, a slick speed boat (with a toilet) which zips along the coast to where the whales are, or there's Hermanus Whale Cruises, in an authentic fishing boat. More info on other operators available from the tourism bureau. To get the big picture, take a quick spin up the spectacular Rotary Way, which winds up into the mountains above the town, from where you can watch paragliders and hang-gliders leap into the air, and get awesome 180-degree views across the bay. From Market Square, turn right into Harbour Road and head out of Hermanus.
Turn right after about two and a half kilometres, between white gateposts. Road becomes good gravel on the plateau at around six kilometres; either turn back, or loop back to town through the Hamilton Russell Vineyards, turning left after you go through their gates, and dropping down into the Hemel-en-Aarde Valley. Stop for a tasting! The entire loop, ending back on Market Square in town, is 22 kilometres long. Do the Hermanus Wine Wander where five estates make unique wines due to the cool climate and proximity to the sea.
All have beautiful views of the Hemel-en-Aarde ('Heaven and Earth') Valley, offer tastings, and most do cellar tours by appointment, so give them a call before you arrive. WhaleHaven is first, then Hamilton Russell Vineyards are about five kilometres later, followed almost immediately by Bouchard Finlayson. Next up is Cape Bay, infinitely easier on South African pockets, followed by the newest, Sumaridge Wines, which also has a restaurant. Go via Rotary Way or continue past that turn-off until you can turn right to R320 Caledon (four kilometres).
The R320 becomes gravel after 10 kilometres, and reaches Caledon on the N2 at 38 kilometres. Do the coastal Cliff Path walk, whale-watching all the way from the New Harbour past town to Grotto Beach. It's about 12 kilometres in all, with a wheelchair-friendly section in the middle, between the Windsor and Marine hotels. Market Square bustles with gift shops, galleries and restaurants, with a lively craft market over weekends. The roads and alleys leading off the square are packed with interesting bookstores, galleries and antique shops.
Fernkloof Nature Reserve packs over 1 100 species of coastal mountain fynbos into its 15 square kilometres (the entire United Kingdom has 1 500 species!), including rare and unusual plants of international scientific interest. There are over 50 kilometres of graded paths and trails, amid beautiful fynbos and ericas, an indigenous plant nursery and a mountain bike trail. From Market Square follow Kusweg with the sea on your right, and turn right into Main Road. Turn left to Fernkloof at about three kilometres.
Take an Ubuntu Cultural Tour through Zwelihle township with the whale crier, Wilson Salukazana, for a taste of African hospitality, shopping at a spaza and downing a quick ale in a local shebeen. Visits with dancers, singers and traditional healers can also be arranged. Grotto Beach, Voëlklip and Kammabaai, all in the direction of Stanford, are great beaches for soaking up the sun. De Wet's Huis Photo Museum on the square, is filled with old images of Hermanus, while the Old Harbour Museum, depicting the history of fishing and whaling in the area, is across the road at the water's edge.
Don't forget to ask the tourism bureau about fishing as well as fly-fishing, scuba diving, boating, kayaking, 4x4 routes, paragliding and hiking the stunning five-day Whale Trail through De Hoop Nature Reserve.
Day 2 Hermanus to Stanford - 30min
From the monument on the square, take the Main Road (which becomes the R43) out of Hermanus, following signs for Stanford, Gansbaai. At about 23km, turn right into Stanford. It takes a while to leave Hermanus as the town sprawls for several kilometres along Walker Bay, then there's a really pretty stretch of road with the mountains on your left and Kleinriviervlei on the right before you turn to Stanford. This is a delightful, sleepy country village that seems poised to become the next tourist hotspot.
A walk around might tempt you back here for a weekend because there's certainly plenty to do here on your South African holiday. The Birkenhead Brewery is an exclusive micro-brewery, restaurant and pub with beautiful views. Tour the brewery and taste their beers - a lager, a kolsch, a traditional German wheat beer and a 'chocolate' milk stout. Ask the brewmaster to explain how beer is actually slimming. Enjoy the birdlife on a stroll along the Klein River, hire a boat from Klein River Boat Hire, or take a cruise.
The African Queen River Cruises accommodates up to 40 people, while the smaller Platanna River Trips take eight to nine. People drive all the way from Cape Town to eat at Mariana's Deli and Bistro at Owl's Barn. She offers home-grown organic ingredients (where possible) and you can choose from a wide selection of freshly baked breads, pastas, mustards and salad dressings to take home with you.
Stanford to Elim - 1hr 20min
At four-way stop, continue along R43 through Gansbaai. Ignore first turn to Elim, Baardskeerdersbos. At 54km, take left on gravel to Elim, Bredasdorp, Struisbaai, and L'Agulhas. Fork left to Elim at 60km. At T-junction (64km), take left to Elim, Wolvengat. Follow curve of the road to the right. Enter Elim at 77km; park at the church. The road turns back towards the sea after Stanford, and there are excellent whale-watching opportunities all along Die Kelders to Gansbaai and Danger Point, the rocky promontory infamous for wrecking HMS Birkenhead in February 1852, with the loss of 445 lives.
On board were British soldiers whose stoic bravery in standing on deck as the ship foundered, while civilians climbed aboard the few lifeboats, has gone down in maritime history as the Birkenhead Drill - women and children first. The turn-off to Danger Point, about one kilometre beyond Gansbaai, takes you to a lighthouse and a blowhole that, in really rough seas, can shoot a plume of water up to 10 metres high. Birkenhead Rock can be seen at low tide.
The need for bravery has remained in Gansbaai, especially if you're up for climbing into a metal cage to dive with the sharks! Gansbaai is regarded as one of the best shark-diving sites in the world, so do give it a go. Elim is a quaint Moravian Mission station. The church owns the entire village and only members may live there. Established in 1824, Elim is a national monument and it's really as if time has stood still. But the church clock hasn't. It's the oldest working clock in South Africa (built in Germany in 1764) and it's unusual in that it has faces on both ends of the church - a solid axle runs the length of the building, connecting the two gables.
Opposite the church is South Africa's only monument celebrating the emancipation of slaves. It's seriously low-key, but definitely unique. Although slavery was abolished in the Cape in 1834, the monument is dated 1838 as slaves were forced to work a further four years to 'buy' their freedom. Quite a few Elim locals can trace their ancestry back to the original German missionaries, some of whom even sold themselves into slavery to spread the word! Ask the tourism bureau about guided tours, accommodation and lunch bookings.
Elim to L'Agulhas - 50min
Just past the church, take right to Bredasdorp, Struisbaai, L'Agulhas. At 34km, T-junction right to R319 Struisbaai, L'Agulhas on tar. Keep straight through Struisbaai to L'Agulhas lighthouse at 46km. The gravel road leaving Elim goes through beautiful farmlands stretching to the dusty purple Bredasdorp mountains in the distance. Slow down to look at some original whitewashed fishermen's houses on either side as you enter Struisbaai. They're all national monuments and are generally two-roomed, with thick lime-washed walls and a thatched roof, often with a fat chimney and oven at one end.
These cottages are known as Hotagterklip ('Left Behind the Stone'), after a rocky outcrop that caused a sharp detour on the original wagon route. Struisbaai also boasts a stunning beach that sweeps around the bay. What L'Agulhas may lack in architectural charm, it makes up for in geographic fame - this is the southernmost point of the African continent, and the waves pounding these rugged rocks mark the confluence of the Indian and Atlantic oceans - just don't tell that to all the Cape Town-based operations with 'Two Oceans' in their names. The precise point is marked by a plaque about one kilometre past the lighthouse.
Walk the last 150 metres to the nondescript rock that's one of the most photographed in the world. It's worth climbing the lighthouse tower not only for the view, but to glimpse the surprisingly tiny light bulb that nevertheless pumps out the light equivalent of seven and a half million candles. Make time for the museum, which sheds light on the history of lighthouses around the country, not only this one. After your climb up the tower, rest up in the restaurant. There are also a couple of pubs and restaurants in L'Agulhas itself.
L'Agulhas to Arniston/Waenhuiskrans - 55min
Return through L'Agulhas and Struisbaai. At 23km, turn right on gravel to Arniston/Waenhuiskrans, De Mond, Prinskraal. At Prinskraal (30km), T-junction left then immediately right to Arniston. At 37km, T-junction to the right on tar R316 Arniston. At 43km, turn left at stop street to Arniston Hotel. 
The gravel road does a left-right dogleg through a farmyard at Prinskraal. Look out for ostriches in a paddock a little further on.
Arniston, if you can see past the sprawling developments that are mushrooming here, is an enchanting fishing village of great beauty, with authentic fishermen's cottages on the hill, deep blue sea and a long beach for tranquil walks. And take your binoculars because this part of the coast also has the biggest concentration of whale cow-and-calf pairs in the country. Arniston's official name is Waenhuiskrans ('Wagon House Cliff'), after a huge sea cave that local settlers said was big enough to shelter several wagons and their oxen.
It's an easy 20-minute walk to the cave (about two kilometres) - best is along the seafront with its rocky shelves, arches and eroded rocks, or you can go by road. It's only accessible at low tide for a couple of hours so check with a local resident for the best time to go. The town's English name comes from the HMS Arniston, which was en route from Ceylon to England, loaded with wounded soldiers and 39 women and children, when it was wrecked in this bay in 1815. Only six of the 378 people on board made it to shore, where they waited two weeks before they were found. There's a monument in memory of some of the passengers a few hundred metres from the hotel.
More to do around Arniston:
The lovely craft centre at Kassiesbaai (within easy walking distance) Angling, squash, cycling, birdwatching, aircraft hire and microlighting. The Shipwreck Museum in Bredasdorp commemorates the hundreds of ships that have been wrecked along this treacherous coastline. De Hoop Nature Reserve, for coastal and fynbos walks, and whale sightings from Koppie Alleen between May and November.Golf as well as tennis at Bredasdorp. Hot springs and the casino at Caledon.
Arniston to Cape Town - 2hr 20min
Follow R316 through Bredasdorp (follow signs to R316 Caledon), through Napier into Caledon at 94km. Turn left onto N2 Kaapstad (Cape Town) at 96km. Follow N2 over Sir Lowry's Pass to the city. Or turn right on N2 to link up with the Golf Route or the Adrenalin Route: At Bredasdorp, follow the signs to N2 Swellendam.
Phone The Hermanus Whale Crier Wilson Salukazana for an on-the-spot update on where the Whales a. 073 214 6949 (June To November). 24-Hour Whale Route Information Line 083 910 1028
Betty's Bay
Harold Porter National Botanical Garden R44, Betty's Bay, 028 272 9311, Open Daily 8:00-18:00
Hermanus
Bientang's Cave Below Marine Drive, 028 312 3454, Daily 11:30-16:00
If Enough Bookings, Fri & Sat Nights 18:30-Late
Bouchard Finlayson Vineyards And Cellars 028 312 3515, Weekdays 9:00-17:00, Sat 9:30-12:30
Cape Bay Wines 028 312 3862, Weekdays 9:00-16:00, Sat 10:00-12:30
Fernkloof Nature Reserve 028 313 8100
Hamilton Russell Vineyards 028 312 3595, Weekdays 9:00-13:00 And 14:00-17:00, Sat 9:00-13:00
Hermanus Whale Cruises
Southern Right Charters
Sumaridge Wines 028 312 1097, Mon-Sat 10:00-15:00, Sun In Season
The Western Cape Hotel And Spa - Arabella Golf Estate And Altira
The Burgundy On Market Square 028 312 2800, Open Daily 8:30-16:15, 19:00-Late, Closed On Sun Nights
Ubuntu Cultural Tours Of Zwelihle Township 073 214 6949, 028 312 4334/2629
Whalehaven Wines 028 316 1633, Weekdays 9:30-17:00, Sat 10:30-14:00
Stanford
African Queen River Cruises 082 732 1284
Birkenhead Brewery 028 341 0183, Open Daily 11:00-17:00, Fri, Sat And Sun 18:00-22:00 In Season
Klein River Boat Hire 028 341 0404, 083 248 5827
Klein River Cheese 028 341 0693, Open Mon-Fri 9:00-17:00, Sat 9:00-13:00
Mariana's Deli And Bistro 028 341 0272, Open Fri, Sat, Sun 9:00-16:00
Platanna River Trips 082 353 0588
Gansbaai
Dyer Island Cruises (Whale Cruises) 082 801 8014
Great White House (Shark And Whale Cruises) 028 384 3273
Ivanhoe Sea Safaris (Whale-Watching) 028 384 0556
Marine Dynamics (Shark Diving) 028 384 1005
White Shark Adventures
Elim
Elim Mill Tearoom And Elim Guesthouse 028 482 1806
L'agulhas
Cape Agulhas Lighthouse And Museum 028 435 6600, Open Daily 9:00-16:45
Regional Tourism Bureaus
Overberg Tourism Caledon, 028 214 1466
Hermanus Tourism Mitchell Street, 028 312 2629
Stanford Tourism 17 Queen Victoria Street, 028 341 0340
Gansbaai Tourism Cnr Berg & Main Roads, 028 384 1439
Elim Tourism Bureau 028 482 1806
Suidpunt Tourism (L'agulhas, Struisbaai, Arniston) Dr Jansen Street, Bredasdorp, 028 424 2584
By Adélle Horler.