South Africa is a rich and diverse country teeming with natural beauty, unique and fascinating cultures and an amazing historical heritage. This is the land where 2 oceans meet and where the magnificent Big Five wildlife of Africa roam. It is yours to explore!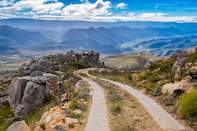 ©Chris Daly
Experience it For Yourself
South Africa is home to some of the premier game reserves and national parks in the world, including Kruger National Park. Here you can enjoy a combination of experiences - nature, history, culture, wildlife, all in one country. The wonderful climate makes South Africa a year round travel destination and an ideal family destination.

A social distancing self-drive South African holiday is a cost efficient way to explore, affording the chance to do so at your own leisure, taking in as much of the attractions as you like. Self-drive tours allow you to fulfill your personal interests at your own pace and choose a South African routes itinerary to suit your individual needs.

Touring South Africa is a rewarding experience, and offers guests the opportunity to experience the unique natural beauty, diverse cultural heritage and fascinating history of this spell-binding country.