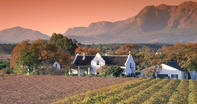 Introduction
'Wine gives great pleasure; and every pleasure is of itself a good,' said Samuel Johnson. Well, we'll drink to that on a South African holiday. Because you don't need to be a wine connoisseur to see the pleasure of spending a day (or two) meandering around the Cape Winelands, sampling wines that are among the finest in the world. What is tricky is choosing where to go, given that there are well over 100 wine estates in the Stellenbosch and Franschhoek areas alone.
To narrow the field a range of experts were gathered, including tourism officers, wine industry leaders and wine writers, and given a cruel task: to pick just a few of their favourites. The list was long, but some names came up again and again. So here they are, a selection of wine estates from hi-tech to historic, from huge to homely, that mix some of the grandes dames for first-timers on a South African holiday, with one or two little-known boutique estates for those who've done it all before. And they're kid-friendly too.
Time:
The route can be done as two separate days, or rolled together into one trip.
Distance:
About 200km or as separate day trips: Day One 170km, Day Two 140km.
Best time to go:
All year - warm summer days are perfect for chilled chardonnay under a shady oak, while winter delivers a completely different experience: many tasting areas have roaring fires. Cellar tours are more interesting in harvest time, during February and March, while autumn turns the vineyards to gold.
The Route:
An intoxicating meander through a fine selection of award-winning wine estates, from hi-tech to homely and obvious to obscure in Stellenbosch and Franschhoek. Spend Day One in Stellenbosch, South Africa's most famous wine region, then cross the Helshoogte Pass to Franschhoek, the 'French corner' that the Huguenot vignerons made their home.
Day One
Wine tastings at Annandale, Waterford and Dornier
Lunch at Spier
More tastings at Middelvlei and Rustenberg
Cross the Helshoogte Pass and overnight in Franschhoek
Day Two
Visit Stony Brook and taste the wine Tour Cabrière with Achim von Arnim Lunch (and wine) at Môreson or Chamonix Afternoon tea at Boschendal
Before you go
Sundays aren't good to tour the winelands, as most estates close for the weekend at lunchtime on Saturday. Of the estates listed here, only Spier in Stellenbosch and Chamonix and Môreson in Franschhoek are open on Sundays, with Boschendal joining them between. November and April: Take some cash, as most estates charge a nominal fee for the tastings. Cellar tours must be booked a day or two in advance.
Find out more
John Platter's South African Wines guide is a vital companion that lists the estates and grades the wines using a star system. It's updated each year. The Wine Desk at the Waterfront, in the Cape Town Tourism office in the Clock Tower Precinct, is a brilliant source of information, and they can book tours, arrange accommodation and help you ship wine home after your South African holiday.
For a 'gastronomic meander through the winelands', read Cape Flavour by Myrna Robins (Struik). This inventive book combines recipes with an overview of all the Cape wine routes and the fine food you'll find there, so you can recreate the experience at home.The Winelands Good Time Guide by Jean-Pierre Rossouw (Struik) gives a refreshingly different take on various wine estates and their characters.
Day 1: Waterfront to Annandale, Waterford and Dornier - 35min
From the Cape Town V&A Waterfront turn left to N1 Paarl, then follow N2 Somerset West signs. At about 43km, take Exit 43 Broadway Boulevard, Somerset West, and turn left to R44 Stellenbosch at the stop. At about 52km, turn right into Annandale Road (right after a farmstall with loads of scarecrows). Turn left into Annandale after 400m - signed Klein Akkerdraai and a small sign for Annandale. For Waterford and Dornier, turn right back onto the R44 to Stellenbosch. After 4.5km, turn right into Blaauwklippen Road (not the estate). Road becomes gravel.
If there's no-one about when you drive into Annandale, just do what the sign says and ring the old slave bell - you'll probably be met by a barefoot and smiling Hempies du Toit, or one of the family, surrounded by a jumble of dogs. A former Springbok rugby player (how many winemakers can explain the off-side rule so that anyone can understand it?), Hempies spent 25 years as winemaker at Alto, but now he is doing it for himself at Annandale, which is his own farm and also happens to be the oldest in the valley. Among his best players are a cabernet sauvignon and an outstanding shiraz, created with all his own grapes in a 'low-tech and primitive cellar. But that's the way I like doing things, all hands-on'.
Personal and delightfully informal tastings (with swallows nesting in the beams overhead) happen in the ancient cellar - the farm's title deeds go back to 1688 - which, like the wine, is being left to age gracefully. I reckon the cobwebs hanging from the yellowwood ceiling in the barrel room are all original too! And for the rugby fans: if you ask, Hempies will sign your bottles. It's hard to imagine a greater contrast at Dornier, which some may remember as Stellenrust, home to the original La Masseria Restaurant.
Now owned by Swiss artist Christoph Dornier (yes, of the aircraft family), the estate has been remodelled along clean, stark lines, with an undulating silver roof designed by Dornier himself 'to enhance the landscape'. The modern cellar and tasting area has a distinctly hi-tech, industrial feel, all raw brick, concrete and steel, with huge windows letting in natural light and the spectacular view of the Stellenberg Mountains. You don't need a cellar tour - more large windows allow you to look in on the enormous steel tanks. As a very special request, ask to see the barrel room, built beneath the large square dam.
The Dornier estateencompasses three farms, and all Dornier's wines are blends, created thanks to their access to vineyards on different slopes.  And now for something completely different, again. A few kilometres  further is Waterford, a fairly new winery created by well-known winemaker Kevin Arnold and the Ord family (who put the 'ord' in Waterford). The citrus orchard followed by a bank of lavender should give you a clue: Waterford is a little Italy, a winery built of dry stone walls around a square with the trademark fountain in the middle.
Terracotta pots, pale green shutters, a game of boules in progress, good wine and cushions on the wall around the fountain invite you to kick off your shoes and embrace la dolce vita. The U-shaped winery flows around the square - the cellar tour takes you from the bottling and labelling machinery in one wing, past the tanks to the barrel room dimly lit by chandeliers in the other. And if it's chilly on your South African holiday, settle into one of the deep couches and enjoy tastings in front of the roaring fire.
R44 to Spier - 10min
From Waterford and Dornier, turn left onto the R44 heading back to Somerset West. After about 4.5km, turn right into Annandale Road. At the T-junction turn right on R310 Stellenbosch. Spier is on the right after 1.5km. Spier is firmly entrenched on the tour bus circuit, but it's an important stop simply because it's grown far beyond a historic wine estate into a destination that can keep you entertained for an entire weekend. (And it's big enough for you to find your own quiet space under the trees on the banks of the Eerste River, away from the madding crowds.)
Before the wine gets overlooked in all the activities on offer, head for the Wine Centre, an original Dutch gabled barn dating to 1750, where over 220 local and 10 international wine estates are showcased. Spier holds tastings of various local wines, not just their own - seven wines are selected for tastings on the hour, of which two will be Spier or one of its labels (Longridge, Bay View, Capelands, Savanah, Sejana and Naledi). The Spier Private Collection is the premium range, made from grapes hand selected from single, mature low-yield vineyards, with limited quantities released each year.
Not surprisingly they shine with stars in the Platter guide. Then, lunch: choose from a create-your-own (but not 'bring your own'!) picnic around the dam or at the river, a riverside pub and grill, or the Jonkershuis offering a traditional Cape Malay buffet. But you'll probably be seduced by Moyo (which means soul in Swahili), a fabulous barbecue experience which sprawls through the gardens, up onto platforms in the trees and into gorgeous Bedouin-style tents with decadently comfortable loungers on the lawn.
The décor, a fantasy of North Africa meets Cape Africa, will delight you - Moroccan-style lanterns hang from the trees above wine barrels stained in the rich ochres and purples of the Bo-Kaap. Even the waiters, serving Pan-African cuisine, are decorated! This is even more impressive at night, when light comes from only the moon and flickering lanterns.
If you can drag yourself away, after lunch visit the cheetah outreach programme and the raptor rehab centre for injured or confiscated birds, or take your pick from a museum of African art in the original manor house, weavers, jewellers, golf, tennis and horse riding, with a special programme to entertain the kids. Enjoy the Spier Summer Arts festival at night from December to March, which celebrates everything from opera to theatre and pop.
Spier to Middelvlei - 15min
Turn right out of Spier. At about 3.5km turn right at T-junction onto R310 Stellenbosch. At 6.5km (opposite Distell) turn left into Oude Libertas Road and left into Middelvlei. Although you drive through a suburb to get there, the Middelvlei gates deliver you right into the middle of the perfect country farmyard, complete with a charming manor house, roses and green lawns, old barns, woolly donkeys in a meadow, ducks, geese, turkeys and goats with a couple of wallabies thrown in.
The kids can go wild in this welcoming atmosphere while you sip wines made by the Mombergs (the fourth generation is waiting in the wings to continue the family farm tradition), with happy photos of the family decorating the walls of the tasting room, a converted stable. Children can also visit aviaries where Ben Momberg breeds parrots, rather appropriately on a farm at the foot of the Papegaaiberg ('Parrot Mountain'), or chat to the talking crow. Ask about Stiljan ('Quiet Jan') and his cousin Janbek ('Mouthy Jan') whom South Africans will remember as politician and athlete Jannie Momberg.
Middelvlei Pinotage is the flagship red among merlot and cabernet sauvignon, but do try the divine, lightly wooded chardonnay. It is possible to tour the traditional cellar by appointment during harvest season.
Middelvlei to Rustenberg - 13min
Leave Middelvlei and turn left at the T-junction onto the R310. Enter Stellenbosch and stay left after you cross Dorp Street. Cross Bird Street at the traffic lights, following N1 Paarl, then turn right at next lights to R310 Franschhoek, Helshoogte Road (about 4.5km). Turn left into Lelie Road. Rustenberg is on the left at about 8.5km. Leave Stellenbosch behind on the drive that winds between vineyards, orchards and paddocks to reach Rustenberg, and you're transported into a picture of what the region must have looked like 100 years ago.
Rustenberg is, quite simply, breathtakingly beautiful. From the historic gabled manor house, where even the brick steps are worn from hundreds of years of footsteps, you can see very little other than vineyards, tall green trees and cultivated fields stretching all the way to the Simonsberg mountains rising majestically above the estate. By contrast, owner Simon Barlow embraces the latest technology in winemaking, with a broad range of multi-award-winning wines (Rustenberg and Brampton labels) tasted in a gracious yet modern tasting room, which used to be the old horse stables.
The estate recently won an award for architecture, as an excellent example of avant-garde meets historic. Spend time on your South African holiday in the beautiful formal gardens created by Rozanne Barlow, Simon's wife, and walk the soul-inspiring labyrinth, which follows the design found in the Chartres Cathedral in France.
Rustenberg to Franschhoek via Helshoogte Pass - 13min
Drive back down Lelie Road to the stop. Turn left onto Helshoogte Road and follow signs for Franschhoek through Pniel and past Boschendal. At T-junction turn right onto the R45 Franschhoek. Enter Franschhoek at 28km; the tourism bureau is on the right at 30km. End the day in Franschhoek so you can make an early start in the morning, with the wine estates right on your doorstep. There are several guesthouses in Franschhoek itself, and even more on the surrounding farms - see Where to Stay on p 53 or ask the tourism bureau for more details.
Day 2 Franschhoek Tourism to Stony Brook - 6min
Continue up Franschhoek's main road, Huguenot Street, then turn right at the T-junction at the Huguenot Monument. At about 3km, turn left to Stony Brook. You'll feel like you're dropping in on a friend for tea at Stony Brook, a family-run estate near the top of the Franschhoek valley. Settle down for a chat and a laugh with Joy McNaught who'll give you lots of personal attention while you taste the wine on the terrace of the family home (or indoors in front of a fire in winter).
You may or may not see her husband Nigel, who prefers to make the wine 'unless I wrestle him out here by the ear!' says Joy. This is an intimate estate, well off the beaten tourist track, run by a couple who make every effort to be as 'green' as possible. They're officially closed in the afternoons, but phone ahead or take your chances - aside from having to nip off to collect a child from school, Joy will almost certainly open for you. They export more than 60 percent of their wine, which gets plenty of stars in the Platter wine guide.
Stony Brook to Cabrière - 5min
Retrace your route to the Monument, and turn left down Huguenot Street. Take first left into Berg Street, and follow it to Cabrière Estate. We're back in tourist country at Cabrière Estate, but even though the groups can be big, flamboyant, sabre-wielding wine grower Achim von Arnim creates a personal touch when he takes the cellar tours on Saturday mornings. Guests enjoy the tours only marginally more than this Prussian aristocrat does himself, and his off-beat humour, enthusiasm and clear delight in life are infectious.
Although the range includes still wines and a fortified chardonnay apéritif, the star of the show, aside from Achim, is the Méthode Cap Classique sparkling wine, bottle fermented in the traditional Champagne style. The cellar tour takes you through the fascinating fermentation and turning process (with plenty of anecdotes to make you giggle), before the tasting and sabrage, where, with dramatic flair, Achim opens the bottles with a shining silver sabre. Achim's tours last till about 13:00 (the weekday tastings are shorter), so you're probably ready for lunch. Stroll to Haute Cabrière Cellar Restaurant, or combine lunch with another tasting at Cape Chamonix or Môreson.
Cabrière to Chamonix and Môreson - 5 and 7min
Return up Berg Street and turn left into Huguenot Street. Pass the tourism bureau, then turn right into Uitkyk Street to Chamonix or continue for another 4.5km and turn left onto the Happy Valley Road to Môreson. Enjoy casual French cuisine (what else?) at Chamonix, where you can eat in the gabled homestead or outside under shady trees with magnificent views over the valley. Or order a picnic and eat on the lawn - plenty of space for the kids to explore (there's also a children's menu and jungle gym).
Then cross the road to the tasting centre, housed in the quaint old blacksmith's cottage, with an underground tunnel leading down into the cellar (tours by appointment). The emphasis is on fine wines (Chamonix was the only South African gold medallist at the International Chardonnay du Monde 2000 competition in France), but for a distinct change of pace, try the German-style schnapps, Swedish bitters and grappa. And if you're now in no state to drive home, spend the night in one of their chalets or at the luxurious hunting lodge on the hill (but be prepared to be watched by various hunted, now seriously stuffed, animals on the wall).
The best time to visit Môreson is in February for the annual Blessing of the Harvest festival. Fill your basket with grapes from the vineyard, extract the juice (that is, get your shoes off, jump in the barrel and start stomping), then enjoy lunch while you design your own label. A few months later, 'your' wine will be available for collection!
Another fine way the folk at Môreson make it impossible to leave is to offer courses in the art of bread-making at Bread & Wine, the rustic, Mediterranean-style restaurant on the farm - you'll want to copy their heavenly, crusty home-baked breads served inside or in the courtyard. The tasting room is next door, where you can sample award-winning wines under the Môreson ('morning sun') and Pinehurst labels.
Franschhoek to Cape Town - 1hr
From the Môreson/Happy Valley Road turn left onto the main road out of Franschhoek. For Boschendal, turn left at 9.4km to R310 Stellenbosch. The estate is 1.5km further. Otherwise continue straight, then turn left to Klapmuts at 13km. At about 22km, T-junction right on R44 Wellington. At about 23km turn left onto N1 Cape Town. Stay on the N1 into the city, and follow signs for the Waterfront. Stop for afternoon tea at Boschendal to see what everyone's been talking about for years.
Arguably the most gracious of the wine estates, Boschendal has turned tourism into a major business, attracting many visitors on a South African holiday, but retains its stature as one of the most elegant of them all. Wines covering all bases - reds, whites and sparkling, which twinkle with stars in the Platter wine guide - can be tasted at the Taphuis, before an hour-long walk through the vineyards to a spectacular viewpoint on the slopes of the Simonsberg (book in advance).
Have tea and scones at Le Café, in the old slave quarters of Boschendal Manor House (now a museum). Boschendal is also famous for Le Pique-Nique, with hampers served from a gazebo on the lawn, or go for the full Cape cuisine buffet lunch at the restaurant in the original cellar.
Don't let it go to your head...
Make sure you include a non-drinker or someone prepared to spit in your party to do the driving. The legal limit is 0,05g alcohol per 100ml blood, which in real terms means that after one to two glasses of wine you can't get behind the wheel. (Your body can process about one glass per hour.)
The French Huguenots
The Edict of Nantes, which granted tolerance of the Protestant religion, was revoked by Louis XIV in 1685. This led to large-scale emigration of Huguenots to the colonies, including the Cape, to start a new life - and bolster the fledgling wine industry. So many settled in Oliphantshoek, named for the elephants who calved here, that the area came to be called Le Quartier Français and later Franschhoek (French Corner).
Eating out in Franschhoek
At the risk of angering the entire national restaurant fraternity, let us say: prepare to dine in the gourmet capital of South Africa. Franschhoek's restaurants frequently appear among the top 10 in the country, with gastronomic heights regularly reached by Le Quartier Français (voted among top 50 in the world), Bijoux, Monneaux, Haute Cabrière Cellar Restaurant among many more. Indulge - you won't be disappointed at all. Or simply stroll along Huguenot Road, the town's main street, and take your pick from restaurants that spill out onto the pavement. (Look out for the fromagerie and a Belgian chocolatier.)
By Adélle Horler.