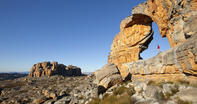 Introduction
This is a route of wild rocks and towering mountain passes - arguably the most dramatic and scenic route in this book. You'll see some most astonishing rock formations, forged out of ancient cataclysmic events, then delicately decorated by the San who roamed these mountains hundreds and thousands of years ago.
This South African holidays route starts with a walk up the mother of all rocks, a huge colossus of granite above Paarl, then journeys through the Cederberg to Agter Pakhuis in an area that may have more rock paintings per square kilometre than anywhere else in southern Africa.
These are the roads less travelled, beautiful drives through remote and rugged rockscapes and endless valley vistas. The solitude means the nights sparkle with thousands of stars, which the Bushmen believed were embers drifting up from the night fires.
Time:
Two nights, three days. But if you have more time on your South African holidays, take a fourth day in the Cederberg, overnighting at Sanddrif or Kromrivier
Distance:
About 500km, ending in Clanwilliam. Add 240km for the direct route back to Cape Town on the N7, or 170km to join the Flowers & Seas Route via Lambert's Bay.
Best time to go:
All year, although spring and autumn are best - the weather is warm but still mild. Be prepared for temperatures over 30 °C in summer. Winter's cooler weather is good for hiking, but rain and snow can make the gravel roads more treacherous.
The Route:
Let the Cape rock you as you climb monster boulders in Paarl, then explore the Cederberg's ancient rock art and wild mountain formations.
Day One
Walk to the top of Paarl Rock. Drive Bain's Kloof to Ceres (pack a picnic). Explore the rock art near Op-die-Berg. Overnight at Mount Ceder or Kagga Kamma.
Day Two
Discover Stadsaal and Truitjieskraal in the Cederberg. Taste Cederberg wine and swim at Maalgat Overnight near Clanwilliam.
Day Three
View rock art on the Sevilla and Salmanslaagte trails. Lunch at the mission station of Wupperthal before touring the famous shoe factory. Head back to Cape Town, or go on to Lambert's Bay on the coast via the Heerenlogement Cave to join the Flowers; Seasonal.
Route back to Cape Town
Note: Fuel is not readily available in the Cederberg, so be sure to fill up in Paarl, Wellington, Ceres, Op-die-Berg (8:00-17:00), Citrusdal or Clanwilliam.
Don't go without Peter Slingsby's Cederberg:
The Map (Baardskeerder), and his books on rock art sites. Look out for Rock Art of the Western Cape: Book 1: Traveller's Rest and the Sevilla Trail; Book 2: Bushmans Kloof; Book 3: Cederberg Conservancy and Eastern Koue Bokkeveld (all The Fontmaker). Another book to pack is Some Views on Rock Paintings in the Cederberg, by Janette Deacon.Take Wild Flower Guide number 10: Cederberg (Botanical Society), to identify the flora. The Romance of Cape Town Passes, by Graham Ross (David Philip) gives you all the historical background.
Before you go
This entire South African holidays route is suitable for a saloon car (unless there's been some extreme bad weather), but a 4x4 would be more comfortable. Phone ahead to check the condition of the roads in winter. Cellphone reception is patchy or non-existent on this route, particularly after Day One. The Sevilla rock art trail near Clanwilliam is tough in summer's heat, especially November to February. If you do it then, aim to start walking early - even at 5:00 - so you can be out of the sun by 9:00. If you're travelling in a tall camper or bus, make sure that you can pass under 3.8m - the height of an overhanging rock on Bain's Kloof.
Day 1 Waterfront to Paarl Rocks - 1hr 10min
From the Waterfront, turn left and follow signs to N1 Paarl. Around 53km take Exit 55, R45 (R101) Paarl Main Road and Franschhoek and turn left at the stop. At 55km turn left on to Jan Phillips Drive, signed Paarl Mountain Reserve (becomes gravel). At 57km T-junction right to Paarl Mountain Reserve. Pass a picnic area and toilets at 61km - keep right to the rocks. 400m later keep left to rocks, through the boom at 62km. Park after 500m and take an easy walk onto the top of Paarl Rock, but for more impressive rocks drive another 500m.
At 48 kilometres you'll see some rather phallic, swooping white stone columns up on a hill on the left. That's the Taal (Language) Monument, inaugurated in 1975 to commemorate the origin and growth of Afrikaans. A colossal cluster of granite domes that soar 654 metres into the sky sets the tone for this rocky route, named the Paarl ('Pearl') mountains by the very first European visitors because of the way they glisten when it rains. (The local Khoikhoi called them the Tortoise mountains.)
Paarl Rock, which dominates the town below, is the first boulder you come to - on top is an old cannon that used to be fired to tell local farmers a ship needing fresh produce had come into Table Bay - but keep going to the more impressive Britannia (on the left) and Gordon's rocks further up the road. There's an easy path to the top of Britannia Rock, from where you can see all the way to Table Mountain, with absolutely breathtaking 360-degree views of the Paarl Valley and the Peninsula.
Although the path up is steep, with chains to help over the awkward bits, it's worth it. If you're reasonably fit you'll do it in 10 minutes, the rest of us need 15 or 20. Once back in the car, note that the drive down follows a different route to the way up!
Paarl Rocks to Op-die-Berg via Ceres and Prince Alfred Hamlet - 2hr 15min (excluding time for lunch)
From the top parking area, follow the road down and through boom. At 2.8km, turn left - this is not signposted. At the stop (8km) turn left, then right to the R45 to Wellington, Malmesbury. At 13km turn right at the four-way stop to R44 Wellington. (Ignore next left to Hermon, Ceres.) At the traffic lights and T-junction at about 18km, turn left to Wellington. At the church, turn right at the traffic lights to Wolseley, Ceres via Bain's Kloof. Bain's Kloof village is at the top of the pass at about 34km. Ignore the right turn to Worcester at about 49km and go straight to Wolseley, Ceres. Ignore next left to Wolseley.)
At 63km, cross the Breede River and at the T-junction turn right to R46 Ceres and cross Michell's Pass. Enter Ceres. At about 73km, turn left at the lights to R303 PA Hamlet, Op-die-Berg and Citrusdal. You'll pass through Prince Alfred Hamlet at about 81km, and start the Gydo Pass. (Ignore right to Touws River.) At 115km, turn left into Op-die-Berg. The road almost all the way from Ceres is flanked by two starkly different mountain ranges.
The Swartruggens mountains rise serenely on the right, while on the left, the tormented rocks of the Witsenberg and Skurweberg ('Scaly Mountains') lie scattered and shattered, victims of some horrendous cataclysm that must have rocked the earth here. Op-die-Berg ('On the Mountain') is a tiny hamlet that's home to Wethu Experiences, a community-based project that brings much needed tourism to the area. They will take you on an interesting two and a half hour rock art tour to three ancient sites, starting with an open living area, then a birthing site, and lastly through a 10 metre high tunnel to a fascinating shaman site. (This can be combined with a kid and granny-friendly donkey cart excursion.)
Wethu also offers mountain bike rides and hiking in the Skurweberg and the Swartruggens Nature Conservancy, which might be under snow around August and September. Booking for the Wethu tour is essential. The rock art site is en route to the overnight stops at Kagga Kamma or Mount Ceder. If you'd like to go on from the site (instead of returning to Op-die-Berg with the guide), let them know in advance. It's not far to the two overnight spots - Mount Ceder's cottages on the river or Kagga Kamma, which is priced for the international market. Alternatives are Klein Cederberg (stone cabins, with rock art sites), Zoo Ridge guesthouse, Nuwerust (self-catering) and Rietvlei (B & B).
Op-die Berg to Mount Ceder - 45min
Turn back onto the R303. After 500m, turn right onto R355 Ceres-Karoo and Cederberg. The tar ends at about 17km - keep straight to Cederberg (or turn right here to Kagga Kamma). After the Blinkberg Pass turn right into Mount Ceder at 51km. Mount Ceder has several tastefully decorated stone cottages, four of which are on a perennial river - enjoy a quick dip and sundowner amid the tranquillity. Ask about their hiking routes and rock art site - a short drive, then a 10-minute walk. Horse trails (one to three hours) can be arranged. (Self-catering, licensed restaurant.)
Or go to Kagga Kamma (1hr 5min from Op-die-Berg)
Turn right at 17km (see above). After Katbakkies Pass turn left at 37km to Kagga Kamma. The lodge at the 15 000-hectare Kagga Kamma Private Game Reserve is set among boulders and weathered stones which hide a number of rock art sites. Get there in time for sundowners over the canyon, then go for a night game drive and enjoy the stars. In the morning, join a guided tour of the San art - the cheetah paintings here are the only ones found in South Africa. Accommodation is in luxury thatched huts or 'cave suites' tucked among the boulders (full board).
Day 2
This is a fairly packed day - to make all the stops, be on the road by 8:00 and if you use the suggested times at each place as a guide on your South African holidays, you'll be at Traveller's Rest by about 17:30. Otherwise skip one or two of the stops. (If you stayed at Kagga Kamma, you have further to drive and definitely won't be able to make all these stops, but there is the benefit of a morning rock art tour at Kagga Kamma.)
Mount Ceder to Stadsaal - 40min
Turn out of Mount Ceder towards Cederberg. At 11km turn left to Clanwilliam, and left again at 19km (Matjiesrivier Nature Reserve office is on your left). Turn left to Stadsaal Cave and Bushmen paintings at about 22km. Allow about 45min at Stadsaal. Blast from the past. Hop in your time machine, hurtle back 500 million years and imagine the dramatic scene: a mighty ocean covered all, and it was only with nature's massive upheavals some 250 million years later that the Cape mountains folded and lifted to form the weird and wonderful formations you enjoy today in the Cederberg.
This range covers an area of about 130 000ha, more than half of it is the Cederberg Wilderness Area, and forms part of the sedimentary sandstones of the larger Table Mountain Group. Stadsaal is a weird honeycomb of rocks weathered into astonishing shapes, the centrepiece being the imposing Stadsaal Cave. Translated as 'Town Hall Cave', Stadsaal was a gathering place for farmers in the district, and politicians like DF Malan - also known as the architect of apartheid - would address his constituents there.
His signature is one of many on the rocks. Also look out for C Louis Leipoldt's, as well as PW Botha's, although his has become somewhat pockmarked.
The rock art is not far from the gate along a track to the right before you get to Stadsaal. Although they may be two or three thousand years old, these elephants are beautifully preserved. No figure is armed, so this probably doesn't represent a hunt, and it's unusual in that this wouldn't have been a living area, so who knows why the artist chose to paint here?
Permits (and a key) are required for Stadsaal and the Bushman paintings, available at Matjiesrivier Nature Reserve office, Kromrivier and Dwarsrivier, and Algeria. Kromrivier issues permits for Truitjieskraal. Dwarsrivier issues permits for Maalgat (as well as Wolfberg Cracks, Lot's Wife and the Maltese Cross, if you're making this a longer stay).
Stadsaal to Kromrivier - 20min
Turn back onto the main road, then left to Kromrivier after about 3km. Allow 1.5hr including drive to Truitjieskraal. The road drops quite sharply down to Kromrivier farm, where you'll meet the first of the Nieuwoudt families who pop up all through this valley. Get a permit at the office, then drive roughly four kilometres through the farm (closing gates behind you) to Truitjieskraal, a mysterious world of unusually eerie quiet. Take time to wander about this huge massif of sculpted rocks, weathered slabs, stacks, towers and sentinels.
In between are two rock art sites with interesting trance images, and an extremely rare half-man half-animal figure. The mummified remains of a San baby were found here several years ago. A river runs through Kromrivier ('Crooked River'), with basic chalets and campsites on the river banks. Horse rides are available, and there's a restaurant, so this makes a good spot for lunch. If you're staying longer, there are several beautiful hikes to waterfalls and rock pools as well as a 4x4 trail. Ask about more rock art at Potation, and Kippurs and Kromrivier caves.
Kromrivier to Dwarsrivier - 20min
Return to main road and turn left to Clanwilliam. Turn left to the Dwarsrivier office after about 3km. Allow 45min for a wine tasting and at least 1.5hr for the walk and swim at Maalgat. Look up and to your right as you approach Sanddrif and Dwarsrivier at one of the Cederberg's famous formations, the Wolfberg Cracks, which disappear into the rock face right at the top of the mountain, and the army of extraordinary rock sentinels on your right. Turn in at Dwarsrivier farm (owned by more Nieuwoudts) and visit the Cederberg Private Cellar to taste 'wines with altitude' - this is South Africa's highest winery, at over a thousand metres above sea level.
They make a range of red and white wines which, as they say, will rock you. (Closed on Sundays.) Now, fancy a swim in one of the most fantastic rock pools in the Western Cape? It's a short drive and then an easy, mostly level 25-minute walk to Maalgat ('Whirlpool'), a 'bottomless' pool fed by a gushing waterfall, with awesomely high rock diving boards for those who need to prove something. Get directions and a permit from the Dwarsrivier office. Dwarsrivier has camping and chalets on the lawns on either side of the river at Sanddrif. An observatory operates on Saturday nights except at full moon - ask at the office.
Dwarsrivier to Algeria - 35min
Leave Dwarsrivier and continue on the road. After Uitkyk (Lookout) Pass, turn right to Algeria Forest Station at about 26km. This is an optional stop, but the office (and you'll probably find yet another Nieuwoudt behind the desk) has a very good information centre and a relief model of the entire area which helps give you the big picture of these mountain ranges. A two and a half hour walk to a waterfall starts here, as well as numerous longer hikes. Algeria also has a beautifully lawned campsite and several stone cottages for hire. (The Algeria Forestry Station was so named because it reminded the first forester, George Bath, of the Atlas mountains in North Africa.)
Algeria to Traveller's Rest via Clanwilliam - 1hr 10min
Leave Algeria. After 400m turn right to Clanwilliam. At the T-junction at 22km, turn right to Clanwilliam. Keep straight through town. At the T-junction turn right onto R364 Wupperthal, Calvinia. At 46km stop at the grave of C Louis Leipoldt. Climb Pakhuis (Warehouse) Pass, cross the Brandewyn (Brandy) River at 63km and turn left to Traveller's Rest 300m later. (An alternative, slower route to Clanwilliam traces the edge of the dam and then joins the above road - it's scenic except at the end of summer when the water is low. You could also access Clanwilliam on the N7, although this is a narrow road with lots of truck traffic to slow you down.)
The otherworldly rock formations around the Pakhuis Pass set the scene for Traveller's Rest, the kick-off place for two of the best rock art galleries in this area - the Sevilla Trail and Salmanslaagte, which can be visited on Day Three (remember to get your permits here). The appeal at Traveller's Rest is the rock art rather than the accommodation, which is rustic with 'a good bed and clean bathroom,' says owner Haffie Strauss. 'After all, the whole idea is to get away!' There are 12 basic cottages scattered around the area.
The Khoisan Kitchen restaurant is open by appointment, and full-time during August and September. (All the cottages have huge fireplaces for winter.) For more creature comforts contact Clanwilliam Tourism for guesthouses in the town, or for out of this world luxury (and prices to match), go to the Bushmans Kloof Wilderness Reserve, a Relais & Chateau lodge. It's a green oasis in a parched and rugged area, with beautiful lawns, several swimming pools, a most heavenly spa, delicious food (mainly eaten al fresco) and fabulously luxurious suites.
The lodge is set among fantastic rock formations, and there are over 130 rock art sites, making it one of the most densely painted areas in the country. Your stay will include game drives and tours of some of the rock art sites, with informed guides who can give some of the background to the paintings. You can also take a garden tour, go mountain biking, canoeing, fishing or try your hand at some abseiling and rock climbing. About a kilometre and a half past Traveller's Rest, turn right into the grand entrance of Bushmans Kloof. The lodge is just over seven kilometres further.
Day 3
The Sevilla Trail is a great four kilometre ramble, marked by white footprints, through the world of the San to 10 sites scattered below high cliffs, among boulders and on rocky ledges. It takes about two and a half to three hours, and should be done in the early morning in summer - aim to be back and out of the sun by 9:00 or you may find the heat unbearable. The paintings may be 1 600-2 000 years old, although they could go back 8 000 years, and include some fantastical figures of monsters, a remarkable group of dancing ladies, handprints, and an extremely unusual 'face' overlayed with a pattern of geometric lines.
Site 10 is across the river - don't cross if it's swollen with winter rains, rather retrace your steps. Salmanslaagte is a six kilometre circular walk (or you can get almost all the way to it in a 4x4) to caves with three sites, named after Salman ('Soloman'), a shepherd who lived here. One of the first paintings you see is of three women showing the remarkable San steatopygia, the enormous buttocks, which allowed them to store fatty reserves of food. Also of interest are the huge yellow elephants - one is about one and a half square metres - which must have required a large amount of yellow ochre that is not found in the Traveller's Rest area. (And just in case we think we've solved the mysteries of the San, there's a painting that looks very similar to a Persian carpet. You figure it out.)
Traveller's Rest to Wupperthal - 45min
Start at Traveller's Rest and turn left onto the R364 (away from Clanwilliam). At 5.3km turn right at the grave to Biedouw Valley and Wupperthal. Go over Hoek se Berg Pass, past the Biedouw Valley and down the Kouberg Pass into Wupperthal at 36km.
After the morning's walks (and a breather), head to the Moravian Mission town of Wupperthal for lunch (phone the tourism bureau to book) and a gentle exploration of this tiny hamlet on the banks of the Tra-Tra River ('tra-tra' is a Khoisan name meaning 'bushy'). Started in 1830 by two German Rhenish missionaries, who were reminded of the Wupper Valley at home, it was taken over by the Moravian missionaries in 1965.
Today it's famous for its veldskoene (bush shoes - you can tour the factory) and rooibos ('red bush') tea - a caffeine-free, low tannin tea with health-giving properties, made from a plant that grows only in the Cederberg mountain area. The road turns down to Wupperthal at the lonely Engelsman se Graf ('Englishman's Grave'), where infantryman Lt Graham Clowes fell during a skirmish with Boer soldiers in the South African (Anglo-Boer) War. After Wupperthal, return to Cape Town on the N7, or extend your trip by joining up with the Flowers & Seas Route on the West Coast, via the historic Heerenlogement Cave ('Gentlemen's Lodging') and Lambert's Bay's Bird Island and open-air restaurants.
Clanwilliam to Cape Town on the N7 - 2hr 40min
Return to Clanwilliam, keep straight through town. Turn left to N7 Citrusdal, Klawer, then left to N7 Citrusdal. After about 57km you'll be on top of the Piekenierskloof Pass. Follow the N7 to Cape Town until about 210km, when you'll cross over the N1 highway. Take Exit 13, which loops round to join the N1 Cape Town. Enter the city and follow Waterfront signs at about 240km.
Clanwilliam to Lambert's Bay - 35 min
Keep straight through town, ignore left to N7 Citrusdal, Klawer. You'll enter Lambert's Bay at about 57km. (Detour to Heerenlogement Cave is an extra 28km.) The Heerenlogement Cave is at about 28 kilometres from Clanwilliam. Cross the bridge and turn right to Graafwater. You'll see a sign for the Heerenlogement at about 51 kilometres. The cave was used as a 'gentlemen's lodging' by travellers as early as Governor Simon van der Stel, who signed his name while en route to investigate the feasibility of copper mining in Namaqualand in 1685.
There are mentions of the cave and a tree growing from a cleft in the rock roof in journals as far back as 1712 - the tree is still there and looking very strong!
If you're in a 4x4 you can try some seriously fun sand driving at The Dunes in Lambert's Bay, but the town's main claim to fame is Bird Island, a three-hectare slab of rock that's home to about 14 000 Cape gannets and is the world's only gannet breeding colony that's accessible on foot - it's just a short walk along the harbour wall. The island also hosts large numbers of cormorants and penguins, and judging by the decibel level, they're all shouting at each other.
But suffer the noise, because the sight of several thousand densely packed and squabbling gannets is unforgettable, as is the smell. There are also two of the West Coast's famous open-air restaurants just outside Lambert's Bay: Bosduifklip, set in a rocky amphitheatre on the way into town, and Muisbosskerm, on the beach on the road down to Elands Bay. Allow several hours to indulge in course after course of food cooked on the fire. If all this requires an overnight stop, call Lambert's Bay Tourism for accommodation options on South African holidays. Then head for Velddrif, where you can decide where to pick up the Flowers & Seas Route.
Lambert's Bay to Velddrif - 1hr
Part of the road requires a permit - buy one at the BP garage in the main street, or at the toll booth for a little extra. Zero odometer at Lambert's Bay. At 9.5km veer right to toll road (toll booth is at 13km). At Eland's Bay (24km), T-junction left then 1km later, oblique T-junction right to R366 Aurora, Dwarskersbos and Velddrif. About 300m later, turn again to R27 Aurora, Dwarskersbos and Velddrif. At about 59km, turn right to Velddrif and Dwarskersbos - this is very easy to miss! At 90km drive through Velddrif. Either turn right after the town for Vredenburg and Paternoster, or remain on R27 past Langebaan to the West Coast National Park.
Velddrif to Cape Town - 3hr
Stay on the R27 and follow the signs back to Cape Town.
Regional Tourism Bureaus
Ceres Tourism 023 316 1287
Clanwilliam Tourism 027 482 2024
Lambert's Bay Tourism 027 432 1000
Paarl Tourism 021 872 3829
Wupperthal Tourism 027 492 3410
All The Rest
Bird Island Nature Reserve Lambert's Bay, 022 931 2900. The Island's Accessible Any Time, But The Bird Hide And New Visitors' Complex Is Open Daily 7:00-19:00 In Summer And Till 17:00 In Winter
Bosduifklip Lambert's Bay, 027 432 2735, Lunch And Dinner Depending On Bookings
Calabash Bush Pub, Bain's Kloof Pass, 023 355 1844, Open Daily 10:00 Till The Last Person Leaves At Night
Cederberg Private Cellar Cederberg, Open As For Dwarsrivier Office, But Closed Sun
Matjiesrivier Nature Reserve Cederberg, Daily 7:30-13:00 And 13:30-16:00
Muisbosskerm Lambert's Bay, 027 432 1017, Lunch And Dinner Daily, Depending On Reservations
Paarl Mountain Nature Reserve, Open Oct-March 7:00-19:00, April-Sept 7:00-18:00, Entrance Fee Payable On Weekends And Public Holidays
The Dunes 4x4 Route Lambert's Bay, 027 432 1244
Wethu Experiences In Post Office Building, Op-Die-Berg, 023 317 0625
Where To Stay:
Algeria Cederberg Wilderness Area, Western Cape Nature Conservation, Office Open Mon-Fri 7:30-16:00, Gate Open Daily Till 21:00
Belmont Hotel Porter Street, Ceres
Bushman's Kloof Wilderness Reserve Off R364 Near Clanwilliam
Cederberg Oasis Backpackers
Dwarsrivier And Sanddrif Cederberg, Office Open Mon-Sat 8:00-12:30 And 14:00-17:00, Sun 9:00-12:00 And 16:00-18:00
Kagga Kamma Private Game Reserve About 50km North-East Of Op-Die-Berg, Entrance Gates Close At 18:30
Klein Cederberg Guesthouse
Kromrivier Cederberg
Mount Ceder Between Cederberg And Op-Die-Berg
Nuwerust
Rietvlei
Traveller's Rest Holiday Cottages On R364 Near Clanwilliam
Zoo Ridge
By Adélle Horler.