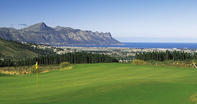 Introduction
Gary Player, Ernie Els, Tiger Woods, Peter Matkovich - we've gone for a celebrity round-up of golf courses in the Cape, on a South African holiday route that travels to the winelands of Stellenbosch and the Helderberg, dips into some whale-watching territory near Hermanus, then journeys up the gorgeous Garden Route via South Africa's sunniest town. And you get to pit your performance against the world's golfing greats when you play on the links that hosted the Presidents Cup in 2003.
Of course, there's more on offer than just golf - if you can't tell your pars from your putters, there's plenty to keep you entertained too. This South African holiday route was put together with Larry Gould, a passionate golfer and former hotelier who has the arduous task of spending long hours chasing small white balls into holes on courses around the country - all in the name of work. Larry also takes golf tours.
Time:
Four days, four nights -  the minimum time you'll need for the entire route, but extra time is recommended to make the most of the courses and explore the Garden Route, one of South Africa's most beautiful regions.
Distance:
About 500km one-way, and add another 450km for the direct route back to Cape Town on the N2.
Best time to go:
Summer may dish up a southeasterly wind that ups the golfing challenge. The rain comes in winter, but it's often mild with plenty of good-weather days in between. Autumn is ideal - the holiday crowds are gone, the wind drops and the days are usually pleasant and warm.
Before you go
It's essential to book well before your South African holiday. All the main courses featured here are golfing estates with homes along the fairways. Preference is given to residents and hotel guests before day visitors. We've listed alternative courses in case they are fully booked, but these clubs also experience high volumes, so do phone ahead. Some clubs also have members-only days. Golf shoes with soft spikes are required on most courses in the Cape region.
South African holiday reading list
Look out for a handy map titled Guide to Golf in Cape Town and the Western Cape, at tourism offices, which lists 70 local courses and their contact numbers.
The Larry Gould Guide to Golf in the Cape, which describes 38 local courses in detail, is a fabulous source of information to anyone exploring the province with a set of golf clubs in the boot.
What you need to know about local golf.
Because of the type of grass on the greens, divots are not replaced on local courses. Sand is used instead, which allows the grass to knit together again. You can hire or buy sandbags at the clubs. Many local clubs have the very civilised custom of the halfway house - stopping for a 10-minute break for refreshments after nine holes.
It's a good idea to use a caddy, available at most clubs. It's customary to tip on top of the official fee, and include something for the halfway house refreshment. Book your self-drive golf carts in advance as they get snapped up rather quickly. Of course we love the 19th hole tradition! And yes, holes-in-one mean an expensive round at the bar here too.
Day 1 Waterfront to Spier De Zalze, Somerset West - 35min
From the Waterfront turn left to N1 Paarl then follow N2 Somerset West. After about 32km, take Exit 33 Baden Powell Drive, Stellenbosch R310 and turn left at the stop (as if you were going to Spier). Turn right into Annandale Road (at the large strawberry). At the four-way stop turn left onto R44 and continue towards Stellenbosch, then turn left into De Zalze Winelands Golf Club. Spier De Zalze Golf Club, off R44, Stellenbosch: 18 holes, par 72. Type of course: parkland. Length: 5 937m. Clubs, trolleys, drive carts and caddies for hire.
As if there wasn't enough to entertain you at Spier, the De Zalze Golf Club (for now accessed off the R44, not through Spier) issues a unique Winelands challenge - can you finish your round before you succumb to a wine tasting? The course, designed by Peter Matkovich, is unusual in that it meanders through a working farm and vineyard. The result is a spectacularly beautiful winelands experience, with the Stellenbosch mountains as a backdrop to fairways running between vines, fruit trees and lavender, and numerous dams and holes along the oak-lined Blaauklippen River making it one of the Western Cape's most scenic golfing destinations. (And do reward yourself by tasting the Kleine Zalze and Spier wines afterwards.)
Another advantage Spier De Zalze has over many of the other major golf estates is that by embracing tourism, tee times are accessible and visitors are made welcome (club membership is limited to residents). A magnificent new clubhouse overlooks the river, practice area and the 18th green. Spier De Zalze is due to host the World Amateur Team Championships in 2006, and a new golf village and hotel is also on the cards. Most challenging hole: 17th par 5 (one of the toughest par 5s in the Western Cape, says Larry) - the fairway curves along the river left of a high bunkered mound, with the river crossing it just before the elevated green.
Where else to play: Somerset West Golf Club - 18 holes, par 73 parkland course (5 928m) crosses a railway line and a road that divides it into three distinct parts. Look out for unusual white squirrels. Or try Strand Golf Club - 18 holes, par 72 parkland course (5 732m).Erinvale Golf Estate - 18 holes, par 72 parkland course (5 892m) is a legendary Gary Player-designed course with two distinct feels. The first nine holes are played on a low, flat part of the estate, while the especially scenic second nine moves up into the rolling high ground, where the hazards are complicated by the slopes surrounding the estates.
When you're not golfing - Somerset West:
See the Wine and the Kids routes (pp 43-44; 116) for more info on Spier. Historic Vergelegen is beautiful for teas or lunches. Phone the Helderberg Wine Route for more options. Visit Helderberg Nature Reserve or hit the beach. See Kids Route (p 123) for more to do. Ask Helderberg Tourism about Spookhill, and how you can get your car to roll uphill...
Day 2 Spier De Zalze, Stellenbosch to Arabella, Kleinmond - 1hr 15min
Turn right out of Spier De Zalze onto R44 to Somerset West. Cross the highway and continue to Strand. At third lights after Somerset Mall turn right into Beach Road. Turn right at circle, right again at the lights onto R44, Gordon's Bay road. Where the road splits, fork right to Faure Street, signed for Bikini Beach. Follow Gordon's Bay beachfront past the naval base. Turn right at T-junction. Pass Rooiels, Betty's Bay and Kleinmond. Turn right into Arabella about 11km past Kleinmond.
Arabella Golf Estate, on the R44 near Kleinmond and Hermanus: 18 holes, par 72. Type of course: parkland. Length: 6 082m. Clubs, trolleys, drive carts and caddies for hire. A feeling of great peace will accompany you on this classic, Peter Matkovich-designed course that's been ranked in South Africa's top five. Arabella hugs the Bot River lagoon and rubs shoulders with the Kogelberg Biosphere, South Africa's first internationally recognised biosphere reserve which is regarded as the heart of the Cape Floral Kingdom - the smallest yet most diverse of the world's six kingdoms.
In keeping with that status, Arabella has cleared alien species and planted endemic plants (about four million of them), to create a beautifully natural feel, which recently won them an International Standards Award for environmental management. You will enjoy the wetlands birdlife as well - especially the ornamental pink flamingos.
Each hole is a unique challenge, with the course designed in two large circles so you're not always fighting the wind on gusty days. The layout mixes both long and short par 4s, different directional par 3s and high-risk and reward par 5s, and it's enjoyable for both high and low handicap players.
You'll probably use every club in your bag. Toughest hole: 3rd par 4 - water on the left tempts you to the right, where two strategically placed bunkers lie in wait. The fairway doglegs left to the steeply sloping green, with water on the left to make it more interesting! Where else to play: Hermanus Golf Club, 18 holes, par 73 parkland course (5 741m) has beautiful tree-lined fairways. Look out for its resident troop of baboons.
When you're not golfing - Hermanus:
Succumb to absolute pleasure in Arabella's Altira Spa.

See the Whale Route (pp 181-186) for more nearby options.
Day 3 Arabella to Mossel Bay - 3hr
Turn right onto the R44. After about 2km, T-junction left onto R43 Villiersdorp (N2). At about 8km, turn right R43 Bot River, Villiersdorp, Caledon (N2), and join the N2 Caledon. Remain on the N2 until Mossel Bay, at about 303km. Follow golf signs right into 11th Avenue, left into 21st Avenue, then right into 17th Avenue.
Mossel Bay Golf Estate, 17th Avenue, Mossel Bay: 18 holes, par 72. Type of course: links. Length: 5 763m. Caddies available for hire.
Mossel Bay has gained a reputation as a 'must play' course when you're in the area, not only for challenging golf - the greens can be ferociously quick at times - but because how many other courses can boast that you can see the sea from every tee? The course is high up on the hill above the town and the sweeping fairways are flanked by fynbos. There's little on the flat, some tees are high above the fairways, while some greens are well above the landing areas of the holes. Mossel Bay's other claim to fame is that it has the third highest number of sunny days in the world! But, being on a headland, the wind can up the ante on blustery days.
Most memorable hole: 3rd par 4 - at almost 400 metres only the long hitters can do it in two, especially into the wind. The tee is high above the target, the fairway running downhill to the green (with rough and well-placed bunkers on either side), all against the deep blue of the Indian Ocean. Where else to play: There is a nine-hole course at Boggomsbaai, near Dana Bay and Vleesbaai, outside Mossel Bay. The first nine holes of a Peter Matkovich-designed course at Pinnacle Point near Mossel Bay are due for completion at the end of 2004. Dolphin's Creek golf course in Great Brak is a mere 20 minutes away.
When you're not golfing - Mossel Bay:
Mossel Bay is famous for its beaches, and whale watching at Cape St Blaize Cave, near the lighthouse at The Point. You can see four of the Big Five (sadly no elephant) at Botlierskop Game Farm (20 minutes from Mossel Bay), or go game-viewing on a quad bike at Zingela Indlela. See Adrenalin Route (pp 205-207) and ask Mossel Bay Tourism for more info on activities such as shark diving, parasailing, scenic flights and helicopter trips.
Day 4 Mossel Bay to Fancourt, George - 50min
Leave Mossel Bay following signs for N2, George. At about 39km take Exit 425, R404 George Airport and Herold's Bay. Turn left and pass airport. Continue straight over R102, following signs for Oudtshoorn, Blanco. Fancourt is 8km from the N2.
Fancourt Hotel and Country Club Estate, Montagu Street, Blanco, George: Four 18-hole courses: The Montagu, The Outeniqua, The Links and Bramble Hill. Clubs, trolleys, drive carts and caddies for hire.
Ernie Els calls it home, Jack Nicklaus says it's the best inland links he's ever encountered, and Gary Player has said: 'Fancourt is the best golf resort on the planet. There is nothing in the world that compares - nothing.'Fancourt hosted the Presidents Cup in November 2003, so be prepared for world-class facilities and exceptional manicuring on the greens and fairways, all set below the spectacularly beautiful Outeniqua mountains on the Garden Route. The Montagu has been voted the number one golf course in South Africa, while The Outeniqua is often a blaze of colour.
On The Links you can pit yourself against the Presidents Cup performances. Bramble Hill is the newest course open to day visitors (The Montagu and Outeniqua are for residents or hotel guests only), offering sloping fairways in hilly terrain with some rather tricky water hazards to trip you up. Best hole-in-one hole: 2nd par 3 on The Montagu - well, it's where Larry Gould did it! The target is visually well below the tee, with  a creek on the right and three barely visible pot bunkers on the left. The green lies on a sharp rise backed by a bunker.
Where else to play: George Golf Club is an 18-hole par 72 parkland course, voted one of South Africa's top 10 layouts. It's gorgeously green and lush, with the purple Outeniqua mountains as a backdrop.
When you're not golfing - George:
Board the Outeniqua Choo Tjoe, a historic steam train which puffs between George and Knysna daily, except Sundays.Explore Knysna, or see the Adrenalin Route (pp 206-212) for more info.
George to Cape Town - 5hr
Drive directly back to Cape Town along the N2, or take an extra night or two and head back on Route 62 via Oudtshoorn (take the N12 at George).
Golf Courses
Arabella Country Estate On The R44 Near Kleinmond
Boggomsbaai Golf Course Near Mossel Bay
Clovelly Golf Course Clovelly Road, Clovelly
Dalton's Creek Golf Estate Great Brak
Erinvale Golf Estate Lourensford Road, Somerset West
Fancourt Hotel And Country Club Estate Montagu Street, Blanco, George
George Golf Club CJ Langenhoven Street, George
Hermanus Golf Club Main Road, Hermanus
Mossel Bay Golf Estate 17th Avenue
Royal Cape Golf Course 174 Ottery Road, Wynberg
Somerset West Golf Club Rue De Jacqueline, Somerset West
Spier De Zalze Golf Club Off The R44, Stellenbosch
Steenberg Golf Estate Tokai Road, Tokai
Strand Golf Club Beach Road, Strand
All The Rest
Altira Spa At Arabella
Botlierskop Game Farm
Helderberg Nature Reserve
Helderberg Wine Route
Outeniqua Choo Tjoe
Zingela Indlela
Regional Tourism Bureaus
Helderberg Tourism 186 Main Street, Somerset West, 021 851 4022
Hermanus Tourism Old Station Building, Mitchell Street, 028 312 2629
Mossel Bay Tourism Market Street, 044 691 2202
George Tourism 124 York Street, 044 801 9295 (Reservations 044 801 9299)
Garden Route And Karoo Regional Tourism Organisation, 044 873 6314
Knysna Tourism Main Street, 044 382 5510
Where To Stay:
Beach House On Sandown Bay Kleinmond
Die Ou Pastorie Somerset West
Dolphin Bay Hotel Mossel Bay
Erinvale Estate Hotel Somerset West
Fancourt Hotel George
Munro Manor Mossel Bay
The Village Hotel Spier Estate
Villa Mari Guesthouse Mossel Bay
The Western Cape Hotel And Spa - Arabella Country Estate And The Altira Spa