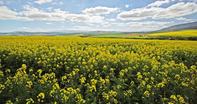 Time:
Four days, three nights if you have time on your hands (or one action-packed weekend if work shouts too loudly).
Distance:
About 350km (excluding mileage in the West Coast National Park)
Best time to go:
Spring (August to October) when the wild flowers turn the veld into a rainbow carpet, the whales are frolicking beyond the waves and everything's green after the winter rains. But this is an all-year-round destination, great for South African holidays, the landscape turning sun-bleached and dry in summer, and moody, wild and rugged in winter.
The Route:
See wild flowers and wild seas all along the Cape's stormy West Coast, from the West Coast National Park to the quaint fishing village of Paternoster.
Day One
Breakfast at Blouberg (or visit Groote Post wine estate). Veld walk around the Rondeberg Private Nature Reserve. Picnic in the West Coast National Park. Overnight in Langebaan.
Day Two
Explore Langebaan or try some action sports. Lunch at an open-air seafood restaurant. Watch the sunset from a kayak in the lagoon. Overnight in Langebaan.
Day Three
Head for Paternoster via the West Coast Fossil Park. Lunch above the long beach at Paternoster. Visit Cape Columbine Nature Reserve and South Africa's rudest bay, then take a lighthouse tour. Overnight in Paternoster.
Day Four
Head for Darling with a stop at the Tienie Versfeld. Wildflower Reserve. Catch a show at Evita se Perron, or lunch at Groote Post. Sunset and dinner at Blouberg.
Before you go
Veld walks at Rondeberg Private Nature Reserve need to be booked in advance.The Cape Columbine lighthouse is only open for tours on weekdays. Groote Post wine estate is closed on Sundays. Be sure to book for Tannie Evita's show in Darling. This would mean that you'll miss lunch at Groote Post but you can visit the wine estate on Day One instead. Phone to book ahead for lunch at Die Strandloper restaurant in Langebaan.
Make it a weekend!
This South African holidays route can be completed in one weekend, especially out of flower season. Visit either the West Coast National Park or the Fossil Park on Saturday morning, lunch at Die Strandloper, then overnight in Paternoster. Grab a show in Darling on Sunday and head back for a leisurely dinner in Blouberg. This route can also be done in reverse, as part of the return journey from the Rocks Route.
Day 1 - Waterfront to Blouberg - 30min
Turn left as you leave the Waterfront and follow N1 Paarl. Take second offramp onto R27 (Paarden Eiland, Milnerton). At the traffic lights after 15km turn left into Marine Drive (Blouberg, Atlantic Beach). At 18km turn left into Sir David Baird Drive, then second left into Stadler Road (signed for Café Blouberg). Café Blouberg is at 19km. Ons Huisie is 400m further.
This South African holidays route starts with a sweep around Table Bay harbour. Interestingly, the bay was first named Saldanha Bay by Portuguese admiral Antonio de Saldanha who anchored here in 1503. The bay was given its new name in 1601, with today's Saldanha Bay acquiring the admiral's name, even though he in fact never dropped anchor there.
After a rather industrial beginning past the factories of Paarden Eiland you reach Woodbridge Island, which marks the start of the Cape West Coast Biosphere Reserve. Out to sea on your left is Robben Island, most famous as Nelson Mandela's prison for almost two decades. Look back every now and then to see one of the most photographed views in the world - Table Mountain looming majestically out of the sea across Table Bay.
Many photographs on South African holidays are taken from Bloubergstrand (originally Blaauwberg), named after the 231-metre mountain that looks blue from across the bay. It's often windy here, but the kite flyers and kitesurfers skimming over the waves make good use of it! There are loads of curios, kites and other goodies for sale along this stretch of Beach Road.
Café Blouberg is the breakfast spot. Dating back to 1860, it was once a fisherman's cottage, and some of the original stone walls have been left exposed. Prepare to feast - the menu boasts two and a half pages of breakfast options, including everything from French toast and flapjacks to eggs Florentine. The café is tiny so if it's full keep going to Ons Huisie, another fisherman's cottage which is also a national monument.
Blouberg to Rondeberg - 40min
As you leave Café Blouberg, turn left at the T-junction into Sir David Baird Drive. Go straight through the traffic circle. Turn left at the second circle, then go straight through the third circle. Enter Melkbosstrand (8km). At the traffic lights at about 18km, turn left onto the R27 Velddrif. Turn right into Rondeberg at about 56km. The road dips into Melkbosstrand before you rejoin the R27. If you're planning a picnic later in the West Coast National Park, turn right towards Cape Town (instead of left to Velddrif) and backtrack a few hundred metres to the Total fuel station and Farmyard Farmstall on your left.
It's a mouth-watering pantry of pâtés, preserves, home-baked breads, pies, cakes and quiches. It's pet-friendly too - there're water and dog biscuits at the door. A little further on look out for the army of power lines marching towards Koeberg nuclear power station on your left. As nuclear power stations go it probably has the best view in the world and must be the only one situated in a nature reserve, surrounded by an abundance of birds and small game.
You'll be tempted to speed up along this stretch of good tar, but keep a sharp eye open for tortoises making their death defying optimistic way across the road, and if you go too fast you'll miss the roadside flowers that spring up from around this point. Also look out for guinea fowl, remembering that if one bursts out of the bushes into the road, there are usually a few more following behind. On either side of the road you'll see huge amounts of Port Jackson wattle - large bushes with elongated, dark green leaves, which in spring become a riot of fuzzy yellow flowers.
These aren't the indigenous flora you came to see, but rather the sad legacy of humans interfering with nature. The early settlers called this area De Groote Woeste Vlakte, or Great Desolate Plain, as its shifting sands and dunes made it almost impassable. In 1845, in an effort to bind and stabilise the sand, Port Jackson wattle and hakea were imported from Australia. These hardy shrubs felt so at home, that they started taking over vast areas of the Cape Flats. 
Pass the turning to Groote Post (that's for Day Four, unless you're seeing a show in Darling), then turn into the Rondeberg Private Nature Reserve about 10 kilometres further on for a close look at Sandveld flowers. At Rondeberg you will receive a huge welcome from Mark and Carol Duckitt, who have converted their dairy farm into a full-time West Coast fynbos reserve. While both stress that they're not botanists ('we're enthusiastic amateurs'), they have a contagious passion for flowers the rest of us would probably miss.
It's taken over four years, but so far they've identified over 800 species on the farm. There's also a dried and pressed specimen of each one in the information centre, along with paintings, life-size watercolours, which were done by their friend and artist Lynda de Wet. But the idea is to get out and see the real thing, or as Mark puts it: 'Get on your knees, bum in the air and smell them! Get some pollen on your nose. Most people go daisy watching in their cars on South African holidays with air-conditioning and say, "Isn't this lovely!" Well it is, but it's only a tenth of what the West Coast actually has to offer.'
Although the West Coast is famous for the rainbow carpets of daisies in spring, there are flowers to be seen almost every single month of the year.
Mark and Carol take guided walks at 11:00 and 15:00 (but book first), covering about three kilometres in two hours, all on the flat so there's nothing too strenuous. Stay for a lunch of traditional farm-made, West Coast fare (with Mark as wine steward, Carol as waitress and Lynda doing the cooking), or head for the West Coast National Park.
Rondeberg to West Coast National Park - 40min
At the Rondeberg gate, turn right onto the R27. Pass Yzerfontein turn-off after 48km (see detour below). Turn left into West Coast National Park (R27 gate) at 60km. A little further along the R27 you can take a three-kilometre detour down the Yzerfontein (R315) road to see an old lime kiln, or keep going all the way to Yzerfontein, which is a good place for whale-spotting from June to November.
The West Coast National Park, classified as a wetland of international importance, embraces the majority of the Langebaan lagoon and its islands, attracting an astonishing number of birds.
Between 50 000 and 70 000 birds fly a staggering 15 000 kilometres from northern Russia each year to spend their summer around the lagoon. One of the best things about the park is its bird hides, especially the one near the Geelbek visitors' centre. The walkway creeps out into the lagoon, putting you smack in the centre of the avian action. But the park's main claim to fame is the floral kaleidoscope in spring, depending on the rains. Straddling both Strandveld and Sandveld, the land becomes a jewelled carpet of vygies, gazanias, daisies and more.
Peak season is August and September, which is also the only time the Postberg Private Reserve is open. There you can look out for eland, kudu, blue wildebeest, springbok and the stripey Cape mountain zebra. About six kilometres from the main gate the road forks around the lagoon. The Geelbek visitors' centre and restaurant to the right is a good stop for lunch, but otherwise take the left-hand fork down the peninsula. You'll be travelling the right fork later, on your way out of the park to Langebaan. Stop at one of the high points where, on a clear day, you can see all the way to Table Mountain.
The road is good tar, becoming gravel near Postberg. Leave the park via the Langebaan gate, which delivers you right into the middle of town. Look back as you climb away from the gate for beautiful views over the lagoon and town. If all the fresh air is starting to get to you, Langebaan's your town. You can sit at one of the restaurants on the beach, sipping a little chilled chardonnay while the kite- and windsurfers relish the wind, turning the lagoon into a colourful frenzy of soaring sails. When it's calmer the kayakers take to the water, the anglers hit the rocks and playtime begins.
The lagoon's water is also marginally warmer than that of the sea, although that's not saying too much as the temperature of the sea is icy cold at the best of times. Spend the night in Langebaan - there are oceans of guesthouses and B&Bs to choose from. But for something completely different, how about spending a night in a houseboat, bobbing on the lagoon?
Day 2 - Langebaan
Day spent in and around Langebaan. This is a deliciously indulgent day. Wander around some of Langebaan's shops, or get energetic at the Cape Sports Center where you can choose from kitesurfing, guided kayaking, windsurfing, mountain biking and dirt bike tours. Or sneak in 18 holes of golf at the Langebaan Country Estate. Just be back in time to get to the legendary Die Strandloper restaurant by midday. And this is why we love the West Coast - for the beach restaurants where you leave your shoes in the car and can take a dip in the lagoon between courses.
No frills here, just excellent food that comes straight from the sea to your tin plate via a sizzle on the open fire. You use a mussel shell as a spoon, and just when you think you can't eat another thing, they slap another seafood delight on the fire. Plenty of potjies filled with treats for the carnivores, along with heavenly fresh oven-baked bread. An afternoon nap is highly recommended after your lazy lunch. Fit in a sunset kayak on the lagoon if you can, or try your luck at Casino Mykonos.
Day 3 - Langebaan to West Coast Fossil Park - 15min
From Langebaan Tourism, turn left into Oostewal. After 10km go straight across the R27 to Langebaanweg. At 16.5km turn left at the T-junction onto the R45 Vredenburg. Turn left again into the fossil park at 19.5km. Leave Langebaan and head inland, through rolling farmlands to the West Coast Fossil Park. Banish any ideas of dry lectures given by dusty academics.
This is hands-on stuff, where you can tour the excavation site that's unearthing evidence of African bears, horses with three toes and short-necked giraffes that roamed the coast between two and five million years ago. You can sift for bones yourself, and if you find anything new they'll name it after you. Aim to be there in time for the guided tour and slide show at 11:30.
West Coast Fossil Park to Paternoster - 20min
Leave the fossil park and turn left onto the R45. After 4km, cross the R27 and go straight to Vredenburg. Keep straight at the traffic lights through town, and into Paternoster at 28km. Heading back towards the sea, the R45 crosses the R27 and takes you to Vredenburg, the thriving commercial centre of this part of the coast. Grab your chance to stock up on supplies - it's a bustling town with supermarkets, chemists, garages and a hospital.
The road through Vredenburg leads directly to Paternoster, one of the most delightful fishing villages along the coast, bravely hanging onto its charm despite the developments happening all around it. Here, in between the cutesy B&Bs, you can still see the real thing - original white-washed fishing cottages perched on the headland overlooking the long white beach. Pater noster is Latin for 'Our Father', and the story goes that it was so named after a Portuguese ship wrecked on these treacherous rocks. All the sailors were rescued, and they gave thanks by reciting many a pater noster.
Enquire about accommodation at Paternoster Seaside Cottages
Aim for a lazy lunch at Voorstrandt restaurant, where you'll be tempted to linger over a bottle of wine on the veranda above the sand, until the sun sinks into the sea. But save some energy for exploring the Cape Columbine Nature Reserve, about five kilometres from Paternoster, which delivers the West Coast at its best - wild seas lashing at a rocky coastline strewn with seashells and seaweed - as well as what has to be South Africa's rudest bay. Follow the signs for Tieties Bay from Die Winkel op Paternoster.
The road winds through the original fishing village, and then becomes gravel (a bit rutted) as you approach the reserve. A tour of the lighthouse is also worthwhile, although sadly it's closed on weekends. Some say that Tieties Bay, at the far end of the Cape Columbine reserve, was named after a fisherman called Titus who drowned there. Others think it refers to the bay's rather well-endowed curve. But the reserve's manager is adamant that it's named after the buxom boulder perched pertly on the hill not far from the lighthouse.
Worth a browse:
Die Winkel op Paternoster, near the first stop street as you enter town. Full of ouma's antiques, bric-a-brac and delicious preserves
Paternoster se Padstal, on the right just before the hotel, has every kind of pickled fish, preserve and even rose jam - once you get past the bokkems at the entrance
Die Pomphuis Gallery near Voorstrandt restaurant. The shops at the fish market
Day 4 - Paternoster to Darling - 1hr
From Die Winkel op Paternoster, return through Vredenburg to R27 (24km) and turn right to Cape Town. At 72km, turn left onto R315 Darling. Tienie Versfeld Wildflower Reserve is on the right at 75km. Enter Darling at 86km. Turn left into Hoof Street, second left into Kerk Street, then second right into Arcadia Street. Evita se Perron is on the left at about 87km. Heading for home you can either retrace your route through Vredenburg and onto the R27, or take a longer route via St Helena Bay (take the gravel road signposted Stompneusbaai as you leave Paternoster - ask a local about the road's condition before you set off).
St Helena Bay is slightly more industrial than scenic - it has one of the biggest fish canning factories in the southern hemisphere - but it's also the place where Portuguese explorer Vasco da Gama first touched southern African soil on 7 November 1497. A cross marks the spot. The village's other claim to fame is that it's the only place on the West Coast where you can watch the sun rise over the sea, due to its position on the bay. You'll stumble over the Tienie Versfeld Wildflower Reserve about three kilometres after you turn off the R27.
Entrance is free and the gates are always open - actually there is no gate, just a wooden stile to climb over the fence. This is pristine Renosterveld and there are at least two flowers, the yellow wine cup and the red-flowered sundew, that are found only in the reserve. Renosterveld is very scarce - less than four percent of its original extent still exists. Tienie Versfeld safeguarded these 20 hectares when he donated part of his farm to the National Botanical Institute in 1958. He is now buried in the reserve, amid the rich diversity of blooms he helped protect.
Darling is home to South Africa's most famous satirist, Pieter-Dirk Uys (aka Evita Bezuidenhout), whose state of the nation revues at Evita se Perron - the old Darling railway station - keep a humorously sharp eye on our fledgeling democracy with a wit that cuts to the bone. Enjoy an afternoon or evening show over a plate of traditional boerekos, washed down with lashings of satire, sit outdoors on  the Piazza dolcEvita or browse around Evita se A en C, the arts and crafts shop full of soaps, candles and other gifty goodies made in the area, as well as a collection of Africana books.
Darling to Groote Post - 30min
When you leave Evita se Perron, turn left and left again into Hoof Street, heading out of town. After 10km, turn right onto gravel, signed to Groote Post. Turn left into Groote Post at 18km. (If going straight to Cape Town, stay on the tar past the turn-off to Groote Post. At 20km, turn right R307 (R27) Cape Town. At 33km turn left onto R27 Cape Town.) Head out of Darling on Hoof Street and you'll see a signposted turn-off to Groote Post wine estate after about 10 kilometres.
Be prepared for about another 10 kilometres on gravel - it's a good idea to phone Groote Post to check the road's condition, especially if there's been a lot of rain.
Groote Post, a national monument, is a gorgeous farm dating way back to 1706 that now focuses on producing a range of excellent red and white wines. Taste them all in the winery (once an eighteenth-century fort), and then settle back for a delectable lunch in the high-ceilinged, yellowwood-floored manor house.
Groote Post to Blouberg - 45min
Turn left onto main gravel road. After 10km, turn left on R27. At about 50km, at traffic lights turn right into Blaauwberg Road M14. At 1km, T-junction right into Beach Road (Marine Drive). At 53km turn left into Sir David Baird then second left into Stadler. On the Rocks is at about 54km. It's an easy drive to the last stop on this route, On the Rocks restaurant in Bloubergstrand, from where you can watch the sun set over the sea as Table Mountain turns from green to purple. From there retrace the route you took on Day One back to the Waterfront on the R27 and the N1.
Café Blouberg Blouberg, 021 554 4462, Open Daily 9:00-22:00
Cape Columbine Lighthouse 021 449 2400, Open Weekdays 10:00-15:00, Closed Weekends
Cape Columbine Nature Reserve 5km From Paternoster, 022 752 2718
Day Visitors 7:00-19:00
Cape Sports Center 022 772 1114
Club Mykonos, Langebaan, 022 707 6970
Die Pomphuis Gallery 022 752 2058, Daily 10:00-17:00 Or So, Depending on the weather
Die Strandloper Langebaan, 022 772 2490 Or 083 227 7195, Lunch and dinner daily in season, otherwise depending on bookings, booking essential
Die Winkel Op Paternoster 022 752 2632, Daily 10:00-16:30
Evita Se Perron Old Darling Railway Station, 022 492 2831
Groote Post Wine Estate 022 492 2825, Wine Tastings Mon-Fri 9:00-17:00, Sat 9:00-15:00, Closed Sun, Restaurant: Lunches only
Langebaan Country Estate
Ons Huisie Blouberg Open Daily 9:00-22:00
Paternoster Se Padstal 084 762 5656, Daily 9:00-17:30
Rondeberg Private Nature Reserve Open Easter To Christmas, Booking Essential
Voorstrandt Restaurant 022 752 2038, Open Daily 10:00-22:00
West Coast Fossil Park Open Weekdays 8:00-16:00, Sat-Sun 9:00-13:00
West Coast National Park And Postberg Reserve 022 772 2144, Main Gates Open Daily 7:00-19:00, Postberg normally open Aug; Sept Only, 8:00-17:00
Darling Tourism Bureau, Cnr Pastorie; Hill Streets. 022 492 3361
Langebaan Tourism Bureau, Bree Street, 022 772 1515
West Coast Peninsula Tourism Bureau (Paternoster/Vredenburg/ St Helena Bay), 022 715 1142
West Coast Regional Tourism Organisation Moorreesburg, 022 433 2380
Where To Stay
Langebaan
Houseboats On Langebaan Lagoon Private Operator
Sa National Parks Boat
The Farmhouse Hotel 5 Egret Street
Paternoster
The Beach Camp, Cape Columbine Nature Reserve Paternoster
The Oystercatcher's Haven 48 Sonkwas Way, Paternoster, On The Edge Of The Cape Columbine Reserve
By Adélle Horler.