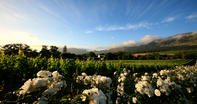 Time
One (full) day, although you may want to make it a weekend and include McGregor or Montagu. Better still would be a few days to take in the entire Route 62 on your South African holidays.
Distance
About 380km as a round trip.
Best time to go
All year, although it's particularly beautiful in November and December when jacarandas, cannas and roses make the route a riot of colour. Grape harvest time is February and March, when there's lots of activity in the cellars, and autumn is charming too, when the vineyards slowly turn to rust and gold.
The Route
Kick off your shoes and relax as you explore the vine-clad countryside around Robertson, the 'valley of wine and roses'. Taste the wines of Graham Beck, Van Loveren and De Wetshof Sip Viljoensdrift wines aboard a boat drifting down the Breede River Have a picnic on the Breede or eat at Fraai Uitzicht 1798. Get lost in the largest hedge maze in the world and explore the cactus garden at Soekershof, or be dazzled by the parrots at Birds of Paradise Head for the river again for sundowners and dinner aboard the Kolgans floating restaurant.
Before you go
The Viljoensdrift wine cruises take place on Saturdays and the first Sunday of the month (every Sunday in December). If you're visiting during the week, taste the wines in the cellar, then make the Kolgans trip a lunchtime cruise. Fraai Uitzicht 1798 is closed for meals on Mondays and Tuesdays (except for overnightguests). The Graham Beck, De Wetshof and Van Loveren wine estates are all closed on Sundays. Try Bon Cape Organic Wine instead.
Waterfront to Graham Beck - 1hr 30min
Many South African holidays start by taking this route. From the Waterfront turn left onto highway following signs for N1 Paarl. At 61km follow signs for N1 Worcester and pay a toll fee to use the Huguenot Tunnel at 66km. Ignore the first turn into Worcester (signed R43 Villiersdorp). At the second set of traffic lights, about 107km, turn right to Worcester/Robertson. At 109km turn left at the lights onto R60 Robertson, and turn right at the next lights into Robertson Road, R60. Turn right into Graham Beck at about 147km. Graham Beck sparkles in the galaxy of South African wines, and a sip of these bubbles will get the day off to a suitably uplifting start. (They certainly worked for Nelson Mandela - the Graham Beck Brut was selected for his inauguration in 1994.)
Don't expect anything Cape Dutch: metal sculptures in the vineyard prepare you for fabulously avant garde architecture in purple, orange and green, which looks better than it sounds. The purple reflects the indigenous vygies, the green the fynbos and the orange the sand and soil of the Klein Karoo. The wines cover a wide range, but most famous of all are their magnificent Methode Cap Classique sparklers. Cellar tours by appointment only, phone and book.
Graham Beck to Robertson - 6min
Turn right out of Graham Beck onto R60 Robertson. Enter the town at 7km, the tourism office is on the corner of Voortrekker and Reitz streets at about 8km. Robertson is a charming Boland town, with lovely examples of Victorian and Georgian homes - drive up Paul Kruger and Van Reenen streets to have a look. But that's not why you're here. So after a quick look at the town, head straight out on the Bonnievale road to the riverside wine estates, starting at De Wetshof and working your way back. Watch your time as the river cruise starts at 11:00 or 12:00. Do phone ahead.
More to do in Robertson: Ask the tourism bureau about Springfield wine estate, trendy Bon Cap, where they grow organic wines; game viewing at Pat Busch Private Nature Reserve; walks in the Vrolijkheid Nature Reserve; Breede Valley Wines at Branewynsdraai Restaurant where you can buy wines of the region at cellar prices; 4x4 routes; rock climbing at Cogmans Kloof; mountain biking and hiking trails; canoeing and fishing in the Breede River; and fynbos trails in the Dassieshoek Nature Reserve. These are just some of the activities to enjoy on South African holidays.
Tourism office to De Wetshof - 15min
From the tourism office turn left into Voortrekker Street (the main road out of town). After about 2km, turn right onto the Bonnievale road. You'll pass Springfield (also worth a visit), Viljoensdrift at about 12km, Van Loveren about 2km later, and then turn left into De Wetshof at about 14km. The Bonnievale road is extraordinarily pretty when the flowers are blooming. A riot of roses gives way to banks of deep red cannas, before an avenue of purple jacarandas leads you up to the De Wetshof tasting room.
If you've explored Cape Town on previous South African holidays it may look familiar: the tasting room is a replica of the Koopmans de Wet House in Strand Street, the home (now a museum) of the original De Wets who came to South Africa in 1693. Today great-great-great... grandson Danie de Wet makes award-winning chardonnays, along with a wide range of other whites and reds under the De Wetshof, Danie de Wet and Dukesfield labels. Cellar tours by appointment only, phone and book. Why is Van Loveren especially popular on Saturdays? That's when the wine tasting is accompanied by the legendary Aunty Jean's sweetcorn fritters.
Although she is no longer around to make them, her recipe is still followed faithfully to complement the broad range of red and white wines, all well priced for South African budgets. The tastings are held either in her former home or in her beautiful garden - ask about the delightful stories behind each tree, planted by Aunty Jean to commemorate everything from the end of World War Two, to Mandela's presidency, to family graduations - they read like a potted history of the world! There are no official cellar tours, but you're welcome to stroll through the cellar on your own. And you can bring your own picnic to enjoy in the garden.
During the week you can taste Viljoensdrift wines at the cellar, but even better over weekends is to board Uncle Ben and taste everything from chenin blanc, chardonnay and shiraz to merlot and rosé as you chug gently along the Breede River, watching the birds and soaking up the tranquility. If you're feeling peckish, the Viljoensdrift team can put together a picnic of pâtés, breads, cheeses, smoked salmon and cold meats to enjoy as you loll on the banks of the river, or to eat on the boat (complete with gingham cloths; book in advance).
There are regular riverside concerts on summer Sundays and the odd one in winter where the proceeds go to charity. Groups of 15 or more can hire Uncle Ben during the week. But if the water isn't for you, head for the hills and some fine dining at Fraai Uitzicht 1798.
Viljoensdrift to Fraai Uitzicht 1798 - 10min
Turn onto the Bonnievale road towards Robertson, then right to Klaas Voogdsstasie, Ashton, opposite Bon Courage. T-junction right on the Ashton road (R60), then left to Klaas Voogds East (gravel). You'll feel a happy calm wash over you as you arrive at Fraai Uitzicht 1798, where an abundance of water and brilliantly coloured flowers lead to the restaurant deck, offering stunning views over the whole Robertson valley.
Host Axel Spanholtz exudes warm bonhomie, while chef Mario Motti produces the fine food made with herbs and vegetables from the kitchen garden that made the restaurant one of Wine Magazine's Top 100 in South Africa.
South African holidays are about relaxing so take a walk through the vineyards and fruit orchards, or (if they're not too busy) tour the oldest wine cellar in the valley. And if it's just too beautiful to leave, you can spend the night in one of several luxury chalets in the garden. There are concerts every second Wednesday evening.
Fraai Uitzicht 1798 to Soekershof - 7min
Head back down to the R60 and turn right towards Robertson. Turn right to Klaas Voogds West (gravel). You're cheerfully invited to get lost the moment you arrive at the Soekershof ('Seeker's Court') Walkabout. And that you will, lost both in the various mazes that sprawl over the property, and in the imaginations of the owners, Herman van Bon and Yvonne de Wit, who've created a vast, whimsical garden where it's difficult to tell truth from fantasy. The Dutch pair fell in love with the area while on holiday, and within months had immigrated and bought this sadly neglected property.
As they cleared the weeds a fabulously diverse cactus garden began to appear (planted by Maarten Malherbe, a pioneer of the cactus trade in South Africa). From there, as Herman says, 'the project went hopelessly out of control'. They've restored the garden, which now has up to 4 000 different plants, including 1 800 cacti and succulents, and planted a 13 870 square metre hedge maze, the largest in the world. That led to the making of even more mazes, including an ancient Cretan labyrinth of cacti, and an inspiring Philosophers' Garden.
Look out for a huge cactus that might be the first ever planted in South Africa. Herman is a master storyteller, who can even work James Bond into the story of Klaas Voogds, the legendary adventurer after whom the area is named, who was finally trampled by an elephant. Be sure to ask what happened to the elephant - but be prepared to suspend belief...
Soekershof to Kolgans - 30 min
Turn right onto the R60 and drive back through Robertson. At about 14.8km, turn left to Goree. The road becomes gravel at about 19km. Keep going and turn left to Kolgans at about 24km. As the sun begins to paint the vineyards orange and the towering mountains purple, follow the narrow track that weaves down to the river on the farm Nerina. At the end is a peaceful inlet, where you board the Kolgans riverboat for a two-hour cruise, gliding quietly among the birds as you enjoy real country food - 'We cook in Afrikaans,' says Amanda Conradie, who runs Kolgans with her husband Frans and family.
'We're not rich or sophisticated, we just love our farm, and we'd like to share it with you.' Bread is baked in jam tins every day, the food is simple and wholesome, and your hosts begin to feel like old friends. And here's a guarantee: as the river unfolds like a ribbon and the silence settles over the valley, you'll find yourself revisiting those fantasies of selling up and moving to the country. The riverboat offers brunch, lunch, sundowners and dinner, and they'll tailor the trip to suit your timing. Booking essential.
Kolgans to Cape Town - 1hr 35min
Turn right out of Kolgans. At 5km, turn left to Worcester. T-junction left onto tar, R60 Worcester. Retrace your morning route back to Cape Town and the Waterfront.
Birds Of Paradise 023 626 3926, Daily 9:00-17:00
Bon Cap Organic Wine 023 626 1628, Daily 8:00-17:00
Breede River Winelands Tourism Ashton 023 615 1100
De Wetshof Estate 023 615 1853, Mon-Fri 8:30-16:30, Sat 9:30-12:30
Fraai Uitzicht 1798 023 626 6156, Wed-Sun Breakfast, Lunch And Dinner
Graham Beck Wines 023 626 1214, Mon-Fri 9:00-17:00, Sat
By Adélle Horler.