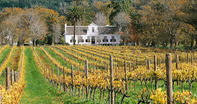 Introduction
The happy marriage between wine and cheese is nowhere more apparent than in the Cape Winelands, with olives and olive oils completing the picture: imagine a long table in the dappled shade of a vineyard terrace, with good friends sharing laughter and simple food as the shadows lengthen towards evening. In the mood? Then slow down and swap the city for a valley on your South African holiday, where nature sets the pace, where deadlines are measured in seasons not minutes, where handcrafted cheeses and oils are left to mature in their own good time.
The people you'll meet are as warm as the sun on your back as you meander through the beautifully scenic greater Paarl area, before moving on to Wellington, settled by the French Huguenots.
Time:
One (full) day
Distance:
About 180km
Best time to go:
Any time, although April to June is most interesting for olives, as that is when they're being harvested and processed.
Best time to go:
All year - warm summer days are perfect for chilled chardonnay under a shady oak, while winter delivers a completely different experience: many tasting areas have roaring fires. Cellar tours are more interesting in harvest time, during February and March, while autumn turns the vineyards to gold.
The Route:
Nibble your way through camembert and caseggio around Paarl and Wellington, with the occasional olive and glass of wine on your South African holiday.
The Route
Taste the cheese at Anura
Detour to Fairview
Catch up on what you missed at Cotage Fromage
Pop into Paarl's wicked chocolate delicatessen
Lunch at Hildenbrand Wine and Olive Estate
Taste the wine at Bovlei
Another wine tasting at Rhebokskloof
Dinner (and more cheese) at La Masseria
Before you go
Have a hearty breakfast - you'll be tempted to taste wine at all these estates along with all the delicious cheeses and olives
Sundays are rest days in the country - only Anura, Cotage Fromage, Hildenbrand and Rhebokskloof remain open, the rest all close for the day
La Masseria is closed on Mondays and Sunday nights
Waterfront to Anura - 30min
From the Waterfront turn left onto the highway and keep following signs for N1 Paarl. At about 45km take Exit 47, R44 Stellenbosch, Klapmuts, and turn right at the stop. At 46.6km, turn left to R45 Franschhoek. Anura is 600m along this road.
Ponds full of platannas (a type of frog) greet you at Anura, which is Latin for frog, and when it rains the sound is deafening. They welcome you into a lovely tasting room with long oak tables overlooking the barrel room and green lawns. Get comfortable, as there are plenty of cheeses to taste on your South African holiday. The Forest Hill Cheesery at Anura specialises in white mould cheeses - brie and camembert - using Jersey milk from Rustenberg and Ayrshire milk from Glen Carlou. Their traditional camembert and brie have both won 'Best in South Africa' awards at the National Cheese Festival, but make space for their flavoured bries, with green figs, green peppercorns, chives or apricots soaked in port. All are made using non-animal rennet.
Detour to Fairview - 8min
Turn right out of Anura. Then left onto the Simonsvlei Road, which is gravel. At about 4.8km, T-junction right onto the R101 (tar). At 5.4km, turn left onto the Suid-Agter Paarl Road, signed to Seidelberg, Ruitersvlei. Cross the highway. Fairview is on the right at 7.7km.
While frogs rule Anura, goats are king at Fairview. You'll park beneath their snooty stares from the trademark goat tower, before going inside to taste a huge range of award-winning cheeses made from both goats' and cows' milk, alongside even more award-winning wines - owner Charles Back was recently voted South Africa's wine person of the decade. And you have to laugh at their 'Goats do Roam' wine label that had the French makers of Côte du Rhône wine all in a tizz. Their La Beryl won best Pont l'Evéque and the Roydon best camembert at the 2003 World Cheese Awards, so be sure to taste those along with plenty of chevins, white moulds and blue cheeses and even a 'white' blue without the blue vein. They're all available in a comprehensive cheese shop that also sells tasting platters of seven styles if you can't make up your mind. The kids will enjoy watching the goats being milked, and if you visit in July and August, there'll be plenty of kids (of the baby goat kind) to keep you enchanted. As you leave Fairview, stop for a moment at the opposite field for a glimpse of zebra, bontebok and eland.
Fairview to Cotage Fromage - 14min
Turn left out of Fairview. At the T-junction turn right on to the R101, Kraaifontein. After 600m turn left onto Simonsvlei Road and left again at the T-junction onto tar. At 11.5km turn into Vrede en Lust.
If you're the kind of person who likes good food to come to you, rather than driving halfway round the countryside to find it, you'll be in heaven at Cotage Fromage, a decadent deli and restaurant on the Vrede en Lust estate. Aside from a smorgasbord of between 50 and 60 local cheeses, along with the pick of olives and olive oils, you'll battle to leave without stocking up on other delicious goodies that go with cheese, like chilli jams, pestos, pickled brinjals, orange roll and fig preserves. Cotage Fromage also gives you the opportunity to taste cheese and olive oils from estates that are either far off this route or aren't generally open to the public, like delicious Dalewood Fromage or Vesuvio and Maradadi oils. The restaurant serves light meals (how about crumbed, deep-fried gorgonzola in a berry and biltong sauce?) in a lovely outdoor area with a jungle gym for the kids.
Cotage Fromage to Paarl - 20min
Cross railway line, at T-junction turn left onto the R45 Paarl. At 6km, T-junction right onto R101 Paarl. Choco-Deli is on the left at 10km.
Look out for De Oude Paarl boutique hotel in Paarl's main street, for there you'll find Choco-Deli, a wickedly delicious emporium devoted entirely to fine Belgian chocolate.
There are fresh deliveries every Wednesday, although the chocs have a perfectly respectable shelf life (but they are not likely to last that long at all).
Paarl to Hildenbrand - 20min
Continue along the main street as it doglegs right then left. At traffic lights (about 13.5km) turn right into Optenhorst Road to Wellington, Paarl East. Cross two bridges, at next lights turn left onto R301. As road curves left into Wellington (about 23.5km) turn right into Blouvlei Road, signed for Klein Rhebokskloof. Turn into Hildenbrand Wine and Olive Estate at about 28.5km - it's easy to overshoot.
If ever you had a childhood fantasy of owning a farm when you grew up, it probably looked like Klein Rhebokskloof, home of Hildenbrand Wine and Olive Estate. A charmingly haphazard cluster of ancient Cape Dutch buildings set in beautiful gardens, it's patrolled by five dogs, nine cats, some fearsome blue-eyed geese and a motley collection of farm animals and foundlings nurtured by owner, oil- and winemaker Reni Hildenbrand. Klein Rhebokskloof is the birthplace of the South African olive industry as the country's first orchard for production was planted on this farm in 1893. Reni, after learning her skills in Tuscany, is now continuing the tradition, producing top quality cold-pressed extra virgin and the deeply desirable unpressed extra virgin olive oil, caught before the actual pressing process has begun.
Hildenbrand to La Masseria, via Bovlei and Rhebokskloof - 35min, excluding stops
Turn left out of Hildenbrand. At 2.8km T-junction right on R301. Bovlei is on the right at 4.6km. From Boveli, retrace your route into Wellington. T-junction left at the church. At about 9km, turn right at the traffic lights R44 Kaapstad (Cape Town) into Champagne Street. At about 18km turn left into Rhebokskloof, or continue straight on to about 27km, turn left into Suid-Agter Paarl Road. Turn left to Ruitersvlei and La Masseria after 300m.
Where next? The route finishes with more cheese for dinner, but before that there's a chance to stock the home cellars at two wine estates offering great value-for-money wines. Bovlei's cellar is right on the road, offering a good range of easy drinking, quality wines.
The sun should be starting to turn the vineyards golden by now, making the drive to La Masseria even more scenic. En route stop at Rhebokskloof for wines suiting all tastes and pockets. The estate is set amid fruit orchards and vineyards and surrounded by fynbos. But be sure to get to La Masseria in time for sundowners before the party starts...
When the moon hits your eye like a big pizza pie, you're most likely to be happily singing along at La Masseria, the family-run Italian restaurant that's now moved to Ruitersvlei farm on the Suid-Agter Paarl Road - there's another one in Eversdal Cellars in Durbanville. Mother-and-daughter team Salomie and Delia Pacifico will make sure you fill up on a mouth-watering buffet of antipasto or home-made pastas from the menu, but do remember to save space for the cheese made by dad Donato at the cheese factory in Stellenbosch, which is also worth a visit, at Delvera Farm off the R44.
Actor Anthony Kampf (you'll recognise his face from stage and screen) is on the guitar and working magic between the tables, so by the end of the evening, after rousing choruses of 'That's Amore', 'Buona Sera' and 'Volare', the entire restaurant departs as new best friends.
Cheeses range from hard pecorino and monte, through feta to sweetmilk taleggio, pepper and chilli caseggios, award-winning mozzarella filone with heavenly dessert cheeses to finish. You must try the duetto dolce - mascarpone with preserved figs and walnuts. Be sure to book a table while on your South African holiday.
La Masseria to Waterfront - 35min
Turn right out of Ruitersvlei onto Suid-Agter Paarl Road. T-junction left R44 Stellenbosch. At 6.5km turn right to N1 Cape Town. Follow N1 into city, then follow Waterfront signs.
Still want more? These are either open-to-the-public operations that are off this route, or are working farms that are not really geared for visitors, but you can visit by appointment (give them a day or two's warning):
Dalewood Fromage, for heavenly white mould cheeses
Foxenburg Estate, for cheese, olives, olive oils and organically grown, fresh mushrooms
Cape Olive Trust, which sells the Buffet olive range
Drakenstein Olives, for your olives, olive oils and green tapenade
Take the kids to...
Butterfly World - you can walk through a cloud of butterflies in the largest tropical butterfly park in Africa. Take Exit 47 and turn right
Drakenstein Lion Farm - see the real thing in a sanctuary for rescued lions. Pass Butterfly World, then turn left and drive 5km
AnimalZone - all sorts of exotic and local creatures such as llamas, monkeys, ostriches, emus and snakes. Also farm animals including birds, rabbits and goats. Take Exit 47 and turn left
Le Bonheur crocodile farm - see crocs from hatchlings to retirement age. Look for signs off the R45
Contact Information
Anura Wine & Cheese 021 875 5360, Mon-Fri 9:30-16:00, Sat-Sun 10:00-16:00, www.foresthillcheese.co.za
Bovlei 021 873 1567, Mon-Fri 8:30-12:30, 13:30-17:00, Sat 8:30-12:30, www.bovlei.co.za
Choco-Deli De Oude Paarl Boutique Hotel, 32 Main Street, Paarl, 021 872 1002, Mon-Fri 9:00-18:00, Sat-Sun 10:00-17:00
Cotage Fromage On Vrede En Lust 021 874 3991, daily 9:00-18:00
Fairview 021 863 2450, Mon-Fri 8:30-17:00, Sat 8:30-13:00
Hildenbrand Wine and Olive Estate On Klein Rhebokskloof off Blouvlei Road (the horseshoe road) Wellington, 021 873 4115, tastings daily 10:00-16:00, restaurant daily except Tues for lunches, open for dinner if there are bookings: 083 384 0249
La Masseria Ruitersvlei, off the Suid-Agter Paarl Road, 021 863 3637, open for all meals, closed Mon and Sun nights
Rhebokskloof 021 869 8386, daily 9:00-17:00
Still want more?
Cape Olive Trust turn off the Swawelstert Road, Daljosafat, 021 868 3120
Dalewood Fromage off the Franschhoek Simondium Road, 021 875 5725
Drakenstein Olives De Hoop Farm, Swawelstert Road, Daljosafat, 021 868 3185
Foxenburg Estate Agter Groenberg Farm, Wellington, 021 873 5617
Wellmont Interlude Farm, Blouvlei, Wellington, 021 864 1181
Paarl Vinters 021 872 3605
For the kids
Animalzone 021 875 5063, daily 9:00-17:00
Butterfly World 021 875 5628, daily 9:00-17:00
Drakenstein Lion Farm 021 863 3290, daily 9:30-17:00, feeding time Mon, Wed, Fri at 16:00
Le Bonheur Croc Farm 021 863 1142, daily 9:00-17:00
Tygerberg Zoo 021 884 4494, daily 9:00-17:00
Regional Tourism Bureaus
Paarl Tourism 021 872 3829
Wellington Tourism 021 873 4604
By Adélle Horler.