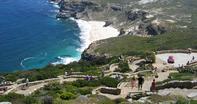 Introduction
If you have only a day or two in Cape Town on South African holidays, this route covers the greatest hits, all the stuff you really have to do if you want to say you've seen the Mother City.
Capetonians can be very smug. As someone once said, they know they've got it, others want it, and sometimes they don't really feel like sharing. So now you don't have to ask - here's a summary of the best Cape Town has to offer. Of course there's plenty more to do - whenever the route zips close to an attraction that's really worthwhile, it gets a lightning mention so you can go back and explore at your leisure. Here's hoping the Mother rocks you.
Time:
Two days
Distance:
Day 1: Under 30km

Day 2: 120km
The Route:
With just a couple of days in the Mother City, here's everything you have to see, from Table Mountain to Cape Point and all the good stuff in between.
Best time to go:
No matter the season, the city welcomes you all year on South African holidays. The beaches are packed in summer's heat, tempered by blustery days thanks to the Cape's notorious Southeaster. Winter's become known as the secret season, when rainy days punctuate halcyon spells of sunny weather. But being Cape Town's weatherman is no easy task - the city has a reputation for dishing up four seasons all
Before you go
In peak season, December-January, allow extra time in traffic, particularly along the Atlantic Seaboard (Camps Bay through Clifton and Sea Point) and False Bay from Muizenberg to Simon's Town.
The timing can be quite tight for Robben Island in the afternoon, as the last boat for the day leaves at 15:00. (You can make the 3.5hr trip in the morning, but won't be back in time for the Noon Gun.) Otherwise, spend longer on the mountain, and do the island another day.
If the Kirstenbosch concerts are on (from December to March, Sundays at 17:30), you may want to do Day Two in reverse.
Cape Town Attractions
For sundowners - Table Mountain; Clifton Fourth Beach or Camps Bay beach (in fact any of the Atlantic Seaboard beaches); or La Med if you like the bar scene.
For afternoon tea - take high tea at the Mount Nelson and feel like a true colonial, or at the Table Bay Hotel in the Waterfront, looking at the water and Table Mountain.
For full moon - walk up Lion's Head and watch the sunset and moonrise from the top. (It's generally light enough to see your way down, but take a torch.
For quirky shopping - wander up Long Street for a mix of history, architecture, on-the-edge fashion and off-beat locals, or check out De Waterkant's super-cool chic.
For concerts - the summer sunset concert season at Kirstenbosch, every Sunday from December to March at 17:30, where you take a picnic and watch from the lawns; or head to Stellenbosch for Spier's starlight concerts - have dinner, then stroll to the amphitheatre.
Day 1
Waterfront to Riebeeck Square - 5min
From the Waterfront turn right into Buitengracht (M62 Camps Bay), following cableway signs. At almost 1km turn left into Kortmark (Shortmarket Street) and park on Riebeeck Square - fee payable.
You can't soak up the soul of a city from inside a car, so get out and up close to the people, with a few hours on foot. Heritage Square, with its interesting shopping and good restaurants, is right across the road.
Otherwise, a wander down Shortmarket Street will bring you to Greenmarket Square, a bustling curio market on every day of the week, where farmers once brought fruit and vegetables for sale. The Old Town House dominates the square. When proclamations were read from the balcony, the people of Cape Town were summoned by the bell on the roof. Today, the Old Town House is home to a display of Dutch and Flemish art, and you can grab a cup of tea and bite to eat in the leafy courtyard.
There are more curio stalls, street musicians and pavement cafés up St George's Mall, with the graceful St George's Cathedral (over which Nobel Peace Prize winner Archbishop Desmond Tutu presided) at the top, on the edge of the Company's Garden. The latter, an oasis of green calm, birdsong and squirrels, was originally planted to supply passing ships by the first Dutch governor of the Cape, Jan van Riebeeck, in 1652. From the Slave Lodge, built to house the slaves who worked in the Company's Garden and now a museum, stroll up Government Avenue past Parliament to the SA National Gallery (with the Jewish Museum and Holocaust Centre behind it) and the SA Museum and Planetarium. If you cross St George's Mall you can wander down Adderley Street, where great old colonial buildings rub shoulders with modern malls. Walk past the flower sellers in Trafalgar Place, or turn into Darling Street to take you to the City Hall (which contains a huge organ with 3 165 pipes). Cross the Grand Parade to the Castle of Good Hope, built in the shape of a five-pointed star, which vies with the Posthuys in Muizenberg as South Africa's oldest European building.
Alternatively, from the parking area walk up Buitengracht and turn right into Wale Street to explore the colourful buildings of the Bo-Kaap (Upper Cape), the birthplace of Islam in South Africa, and home to many residents who can trace their ancestors back to slaves of the Cape Colony. At New Year, especially Tweede Nuwe Jaar (Second New Year, 2 January, a Cape Town peculiarity - it was the only day slaves had off for the entire year!), the Bo-Kaap is a riot of colour and sound as the Kaapse Klopse, or Cape Minstrel bands, sing and dance their way between crowds of onlookers. The Bo-Kaap Museum is at 71 Wale Street.
Wherever you go, be back at the car by about 11:30, to get to the firing of the Noon Gun (it waits for no-one). If you want to look like a local on South African holidays, remember that the firing of the Noon Gun instantly separates tourists from Capetonians. As the gun booms out over the city, visitors (jumpy about South African crime) stare wildly about, while Capetonians look at their watches. So if you want to look like you belong, next time you hear the gun, be cool and check the time.
Riebeeck Square to Lion Battery - 5min
Turn left back onto Buitengracht. After 500m turn right into Bloem Street (signed for Noon Gun) and immediately left into Jordaan. The road curves right twice, then at about 1km turn left into Whitford, which becomes Military Road. Keep straight to the battery at just over 2km.
Garbage and graffiti make the route to the battery look dodgy, but proceed in good faith. You'll be rewarded by gorgeous views of the City Bowl, and a living piece of history. There are several guns up here - 21-gun salutes to visiting ships erupt from this battery - but the 18-pounder Noon Gun tops them all (there are actually two, used alternately, and both are loaded in case one misfires). They were originally fired so that ships in the bay could synchronise their chronometers, and now... well, because we like it. The tradition goes back to 1806 - they've been fired every day (except Sundays), so they're now well past 62 000 bangs. You can watch them being loaded - with 1.5 kilograms of gun powder in cloth bags - then join the countdown. Blocking your ears is highly recommended.
Lion Battery to Signal Hill view-site - 15min
Retrace the route from the battery. Keep straight down Whitford Road at 1.2km. Turn left at the bottom, then right and right again into Buitengracht. Follow M62 Camps Bay and brown cableway signs to the intersection at 4.5km. Turn right into Signal Hill Drive and follow it to the parking area.
Mind the tour buses that toil along this road and tend to park rather awkwardly on the corners, but they're also enjoying the awesome views of the City Bowl hugged by Table Mountain, and round to Robben Island, Sea Point and Green Point, with the Atlantic Ocean sparkling to the horizon. And now, if you don't feel you're high enough already - prepare to fly...
Signal Hill to Table Mountain Lower Cableway - 5min
Leave the viewsite and return to intersection. Go 'straight' across to Tafelberg Road, which winds up to the Lower Cable Station at 4km.
The ancient San people, or Bushmen, called Table Mountain Hoerikwaggo (Mountain of the Sea) as it rises from the low-lying Cape Flats, which used to be underwater, and soars to a majestic 1 085 metres at Maclear's Beacon.
No-one will ever take you seriously again if you come to Cape Town on your South African holidays and don't stand on top of the Table. So get in line (inconveniently, they don't take bookings, so allow about half an hour for queuing) and buy your ticket for the aerial cableway - definitely the easiest way up. The ride takes just under five minutes, and the car rotates so that the panorama changes from city to sea to mountain. It goes without saying that the 360-degree views of Table Bay, False Bay, Robben Island and the Peninsula from the top are spectacular - just mind you don't trip over a dassie while you're staring out to sea. Explore the paths that criss-cross the summit, and end at the fully licensed restaurant (or settle down for a picnic with the best view in town). If you're up for the ultimate adrenalin fix, try the 112-metre abseil over Camps Bay.
Table Mountain to Waterfront for Robben Island - 20min
Leave the Lower Cable Station and return to the intersection. Go 'straight' across to Kloof Road (between the Camps Bay road and Signal Hill Drive). At the 2.1km T-junction turn right into Lower Kloof Road. At 4.3km turn left into Queens Road and keep straight to the sea, then through Sea Point on Beach Road, with the sea on your left. At 7.5km keep straight to the city. Go straight across the traffic circle at Green Point. At 10.2km turn left onto Buitengracht (brown sign to CTICC). Turn into the Waterfront to the Clock Tower and Robben Island tours. (If you're running late for the boat, take the direct route back down Buitengracht to the Waterfront). The high point of the Robben Island tour is the cell where apartheid prisoner-turned-president Nelson Mandela spent almost two decades of his life. And the list of inmates who shared the other cells in that passage is astonishing - it reads a bit like a who's who of South Africa's first democratic government.
It's a good idea to book in advance, but bear in mind the tour is weather permitting. Get your tickets at the Nelson Mandela Gateway close to the Clock Tower, or you can book over the phone with a credit card. Before you board, make time to view the museum on the history of the island and the political struggle. The ferry trip to the island takes about 25 minutes. Your guide will be a former political prisoner, and the tour includes a drive around the island, where you can get great photos of Table Mountain.
After the boat trip back to the Waterfront, discuss the events of the day over dinner. Taste the foods of the entire continent at Africa Café on Heritage Square - simply retrace this morning's route and park on Riebeeck Square. Or tour the townships to the beat of drums and traditional African instruments on a Township Music Tour.
Day 2
Waterfront to Kirstenbosch Botanical Garden - 10min
From the Waterfront, turn left onto N1 Paarl, then N2 Somerset West, M3 Muizenberg. At about 5km keep right at Hospital Bend, following M3 Muizenberg and brown signs to Kirstenbosch. At about 10km, turn right at traffic lights into Rhodes Drive, M63 Hout Bay and Kirstenbosch. Turn right into the gardens at 12km.
This is the only place you'll see a baobab in the Western Cape, towering over a conservatory of desert plants and succulents, with a forest of cycads and a fern garden next door. But the main event here in Kirstenbosch, one of the 'Seven Magnificent Botanical Gardens of the World', is the fabulous setting of manicured lawns and beautiful beds of flowers giving way to natural vegetation sweeping up to the towering mountain above. This isn't a stuffy outing for gardeners only - it's an abundantly beautiful and peaceful place where the kids can zoom around while you enjoy breakfast in the sun. There's also a Braille Trail, a Fragrance Garden, a Useful Plants Garden, a Water-wise Garden, as well as several restaurants, a nursery and a shop.
En route on the M3 to Kirstenbosch you'll pass:
Groote Schuur Hospital, on your left, where the world's first heart transplant was performed by surgeon Chris Barnard in 1967 - there is now a Transplant Museum in the theatre where the operation was performed
Mostert's Mill, a little further on the left, is a fully restored Dutch windmill built in 1796 and a reminder that all this land was once farmland, with grain stored in the Groote Schuur (Great Barn), after which the hospital is named
Rhodes Memorial, on your right, is a rather grand granite monument to Cecil John Rhodes, whose vision was to snap up most of Africa for the glory of the British Empire. On his death, he bequeathed all this land (later occupied by the University of Cape Town and Kirstenbosch) to the nation
Kirstenbosch to Constantia Wine Route - 10-20min (depending where you stop)
Turn right back onto Rhodes Drive, then T-junction right to Hout Bay and Constantia Nek. At Constantia Nek circle (5km) turn sharp left to Constantia Main Road (M41 Wynberg). The turning to Groot Constantia is at about 8km. At about 9.5km turn right at traffic lights into Ladies Mile Road (M39 Bergvliet). At next lights (10.5km) turn right onto M42 Tokai. Follow the Constantia Wine Route signs to Buitenverwachting and Klein Constantia, and later Constantia Uitsig. At 15km go straight through the circle. The entrance to Steenberg Wine and Golf Estate is at the second circle at 16km.
Unless you're a seriously quick drinker, you'll have to pick just one or two of the estates along the Constantia Wine Route, and it's not an easy choice.
These estates were the first to produce wine in South Africa, which was enjoyed in the eighteenth century by European royals, Napoleon and even gains mention in Jane Austen's Sense and Sensibility. All estates have award-winning wines available for tasting in beautiful settings.
Constantia Wine Route to Penguins at Boulders - 35min
Continue from Steenberg Estate circle and go straight through several traffic lights. At 3km, T-junction right into Main Road M4 Muizenberg, brown sign to Cape Point. After about 600m, turn right onto Boyes Drive for fantastic views over Zandvlei, Muizenberg and False Bay to Kalk Bay.
From Boyes Drive, look out for whales in the bay from August to October. An alternative route is to keep straight on Main Road and not turn right to Boyes Drive. Although there's usually more traffic, it takes you along the seafront through St James to Kalk Bay. The grand stone houses that line this road make it easy to see why this used to be called 'millionaire's mile' - many were built by wealthy mining magnates who made their money from the gold and diamond rushes.
On Main Road, look out for Rhodes's Cottage, bought by Cecil John in 1899, and where he died at just 49 years of age. (There is a cigar burn on one of the tables that's said to have been made by former British Prime Minister Winston Churchill.) A little further on lies The Posthuys, a building that possibly predates the Castle as the earliest European building in the Cape, as it is thought to have been built in 1673, a whole year before the Castle was completed.
Stop at one of the popular places Capetonians won't easily tell you about - the Olympia Café opposite the harbour at Kalk Bay - for delectable pastries and a friendly buzz. (Turn left onto Main Road from Boyes Drive and park in the street or at the harbour.) Kalk Bay itself is also well worth a wander.
After 10km, Boyes Drive curves left down to the T-junction with Main Road - turn right and drive through Clovelly and Fish Hoek. At 13km turn left at the circle to Simon's Town, and travel next to the sea past Glencairn and through Simon's Town. You can either turn left at about 22km into Seaforth Road, at the brown sign to the penguins, or go a little further and turn left into Bellevue Road, signed for penguins and Boulders Beach.
The main penguin viewing area is from Seaforth - there's a restaurant, curio stalls and a shop, with boardwalks taking you through nesting areas to a platform on the beach. But if you fancy something slightly quieter, with a chance actually to get your feet into sand and sea, go to Boulders Beach. (Entrance fee charged at both places.
There's a restaurant and gift shop before you walk down to a tiny beach that all but disappears at high tide. Here humans and penguins share the sand, and the swimming is fabulous - flat and calm, amid huge 540-million-year-old boulders. A wheelchair friendly path behind the beach takes you all the way to the Seaforth side, so you can still see the breeding areas. Just check underneath your car before you leave - some penguins might be enjoying a bit of shade.
Penguins to Cape Point - 20min (to park entrance)
Leave Seaforth parking area and turn left into Main Road. After 10km turn left into Cape of Good Hope Nature Reserve. The restaurant is a further 12km from the gate.
Here's where the continent of Africa tapers to a rugged, rocky point, and currents clash to create wild seas that lash the land, prompting explorer Bartolomeu Dias to call it Cabo Tormentoso, Cape of Storms, in 1488. Portugal's King John II, possibly Cape Town's first public relations officer, later changed it to Cape of Good Hope, which is used today. Things got even better in 1580 when Sir Francis Drake described it as 'the fairest Cape we saw in the whole circumference of the earth'.
You could spend the entire day here - there are endless hikes that will reward with fantastic vistas, whales, birdlife, richly diverse fynbos and game if you're lucky. The Chacma baboons are said to be the only ones in the world to have developed a taste for seafood. (Keep your distance as they can be dangerous, and definitely don't feed them. Keep car windows and doors closed if they're nearby, and back off slowly if a baboon approaches you.)
You can picnic and swim at one of several beaches or tidal pools, or explore the history of the place, from San hunter gatherers who lived among these rocks, to early global explorers who landed here (Dias and Da Gama erected crosses). Stories of numerous wrecks abound, including the famous Lusitania which went down off the Point in 1911, and the Flying Dutchman, the subject of Wagner's famous opera, which sank in 1680, her captain vowing to round the Cape if it took him till Doomsday. He's still trying, they say -- the ghostly galleon has been sighted through the fog on many an occasion, including by Britain's King George V.
But this is a quick visit, so take the funicular for a brief ride up to the old lighthouse, and if you like a walk on the wild side, stroll down to the working lighthouse right at the Point, just 87 metres above the crashing surf.
Cape Point via Scarborough to Chapman's Peak Drive - 50min without the stop-over for lunch
Turn left onto M65 for Scarborough, past curio stands. (Cape Point Ostrich Farm is on your right.) At 8km turn left, following M65. Enter Scarborough at about 10km, with Camel Rock on your left at 11km, and the two Scarborough restaurants immediately after it. Keep straight at the 4-way stop (16km) and enter Kommetjie at about 18km. Pass Imhoff Farm at 22km and Solele Game Reserve at 25km. At 26.5km, turn left at traffic lights to M65, Ou Kaapse Weg (Old Cape Road). At 27.5km, turn left at traffic lights to M6 Noordhoek. Pass Noordhoek Farm Village (stop for tea!) at 31km. Chapman's Peak Drive toll road starts 500m later.
Settle back for a lazy return drive towards town, along a route that's been described as the most beautiful in the world. And there's a sunset picnic at the end of it. The route starts amid natural fynbos before skirting the sea again at Scarborough. Misty Cliffs is an idyllic cluster of houses before the road drops down past Slangkop lighthouse into Kommetjie. Yes, those are camels at Imhoff Farm. Dip inland briefly before climbing above Noordhoek's endless beach to Chapman's Peak Drive, an awesome marine road carved out of the mountain with sheer, boulder-strewn drops to the sea. (A toll fee is charged.)
Chapman's Peak Drive to
Llandudno, Bakoven, Camps Bay or Clifton Fourth Beach. (Llandudno - 25min, Bakoven - 30min, Camps Bay - 35min, Clifton Fourth - 40min)

After leaving Chapman's Peak, drive through Hout Bay. At the second traffic circle (42km) turn left to M6 Llandudno. (Pass Valley Road to World of Birds at 43km.) At the next traffic lights turn right to Llandudno. For Llandudno beach, turn left at 45km. For Bakoven turn left into Beta Road at about 52km. Pass Balie Bay at 53km and enter Camps Bay. Pass left to La Med, then turn left to The Ridge and Clifton Fourth Beach at 55km.
Chapman's Peak Drive delivers you to Hout Bay (which not so long ago declared itself an independent republic!) and then it's a fabulously scenic drive to a variety of perfect sundowner spots. Take your pick from Llandudno, where there might still be time to catch some tanning rays; Bakoven, where you can grab a quick swim or sit among the seagulls on the rocks; Camps Bay's wide open spaces; or Clifton Fourth Beach - good if there's a bit of a breeze. If you don't feel like a picnic, take your pick of Camps Bay's back-to-back pavement cafés and trendy restaurants.
Clifton Fourth Beach to Waterfront - 20min
From the turn to Clifton Fourth, continue through Bantry Bay, turn left into Seacliffe at 2.2km. Go along the beachfront through Sea Point and Three Anchor Bay. Turn left at traffic lights at 5.5km into Beach Road and Mouille Point. Pass Mouille Point lighthouse at 6km and turn into the Waterfront at 8km.
Set the stage
If you're still up for entertainment, it's showtime at theatres all around town. Check the press to see what's showing.
Cape Town's two main multi-venue theatres are Artscape (Foreshore, city centre) and the Baxter (Rondebosch), where'll you find everything from mainstream theatre to live music, dance, comedy and musicals, with Artscape also home to ballet and opera.
For work from local and international playwrights, go to the Theatre on the Bay (Camps Bay), the Intimate Theatre and the Little Theatre (both UCT Orange Street Campus).
For considerably more irreverence, visit On Broadway (Green Point and Table View), for a changing mix of comedy, drag and cabaret, or follow the Cape Comedy Collective stand-up comics at various venues around town. The Independent Armchair Theatre reflects Observatory's buzz, with live music, theatre, comedy and the odd film.
Kalk Bay Theatre regularly hosts famous South African names between a delicious dinner and dessert.
When the weather's good, watch Shakespeare under the stars at Maynardville Open-air Theatre (Wynberg, in January and February), or go further afield to more open-air amphitheatres at Oude Libertas (December to March) and Spier (November to March) near Stellenbosch.
And if you're looking for music to lift the soul, the Cape Town Philharmonic Orchestra moves around town between Artscape, the City Hall, St George's Cathedral and occasionally, Kirstenbosch, where they often perform at New Year.