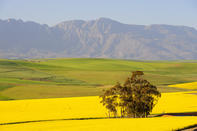 © Shem Compion
Canola is an oilseed bred out of rapeseed.
The Western Canadian Oilseed Crushers Association in 1979 registered the name "Canola" for a new type of oilseed selectively bred out of rapeseed. Canola has a much lower erucic acid and glucosinolates content than rapeseed, rendering it suitable for use in food. The name is derived from a combination of the words, "Canadian", "oil" and "low acidic".
Production in South Africa
Although canola is a summer crop in temperate and cool parts of the world, it is primarily produced as a winter crop in South Africa. The Western Cape, in effect, accounts for almost two-thirds of Africa's total canola seed production. Some trials have indicated that it can be grown under irrigation in the summer rainfall area, but at the moment there is no urgent need for summer rainfall producers to include canola in their crop cultivation programmes.
Canola is produced from fine seed, so should be planted no deeper than 3 cm, which is shallower than for most grain crops. For optimal germination, the seedbed soil should be fine without large clods, moist and not compacted....
more
Canola pods are primarily used to make canola oil or blended with other edible oils. This oil has been approved by the Heart Foundation, because of its high percentage of omega-3 fatty acids that decreases low-density lipoprotein cholesterol levels....
more