Opposites Attract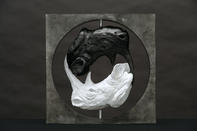 Harness ancient African wisdom with this glorious rhino sculpture. A bronze-on-stainless-steel marvel, it employs the form of the majestic rhino to illustrate the beauty of dualism.
Chinese mystics of old introduced to the world the notion of yin and yang – the marriage of opposing forces to create harmony. This limited-edition piece sees the heads of the black and white rhino, who share a similar plight, merged to become one.
Surround yourself with the magic of these opposing forces combining for a good cause.
Priced From: US$6160
By Bruce Little