State of Affairs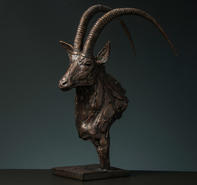 Buy this bust today and elevate your living space with a splendid dose of elegance. This custom sculpture depicts the neck, head and horns of a sable antelope, one of nature's most stately creatures.
Known for its territorial energy and grace, the sable signifies mastery and dominance. In the wild, only the strongest survive.
Harness the power of the sable when you procure this beautiful sculpture - an undeniable collector's treasure.
Priced From: US$3400
By Bruce Little