Resilient Life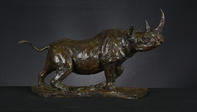 Nab this exquisite piece of work by one of South Africa's most lauded wildlife sculptors. In this intricate bronze piece, a Rhino is seen bracing to charge with its prehistoric form on glorious display.
The artist is moved by the ongoing plight of the Rhino, a creature whose future remains uncertain. In this vivid sculpture, the observer is compelled to wonder at the resilience of this magnificent animal and its defiance in the face of great odds.
Secure the presence of the Rhino, immortalised for generations to come. Enquire at SouthAfrica.co.za today.
Priced From: US$6500
By Bruce Little