Restful Heights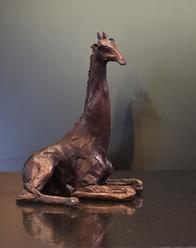 The tallest mammal on earth, the towering giraffe is seen seated and regal; a rare depiction of this animal.
Giraffes have long been considered one of the most fascinating creatures in the wild. This bronze captures their majestic serenity, celebrating their distinctive dimensions and design.
Place your order with SouthAfrica.co.za today and own this beautiful immortalisation.
Priced From: US$1400
By Bruce Little