Leaping Art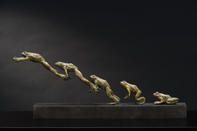 Depicting a series of frogs in an astounding leaping sequence, this piece is a work of intricacy and whimsy.
Five frogs are seen in different stages of movement, from idle to mid-flight, in this stunning illustration of the movements in nature. A piece from a leading wildlife sculptor, it is a feat of craftsmanship and creativity.
Buy yours today and own a limited-edition collector's item. Enquire at SouthAfrica.co.za for more.
Priced From: US$3220
By Bruce Little