Wilderness Cheer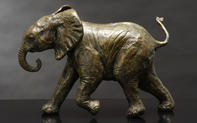 Celebrate the enchanting exuberance of an Elephant Calf. This piece immortalises the innocence and beauty of this creature. In this charming bronze sculpture, a baby elephant is seen carefree and jubilant, as all wildlife in protected habitats should be.
This piece by one of the most heralded sculptors celebrates the majesty and form of African wildlife.
Enquire at SouthAfrica.co.za about adding this creation to your collection.
Priced From: US$6700
By Bruce Little