First Place in Bronze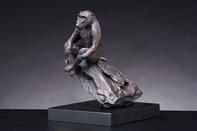 Charged by the artist's passion for African wildlife and conservancy, this piece is sculpted around the human-like contemplation of the model. The sculptor instils thoughtfulness in his work through the baboon's poised posture – a suggestion to appreciate the animal for what it is.
This limited-edition piece has been recreated just 15 times, and as part of the artist's early collection, it has unmistakable future value. The rich bronze atop black granite makes it a worthwhile addition to any contemporary home.
Priced From: US$3000
By Bruce Little