Suspended in Time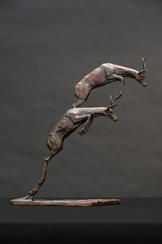 Own a piece by one of South Africa's most celebrated wildlife sculptors. This bronze sculptor epitomises the African wild, the liberated abandon of its creatures.
In this impression, two animals are depicted in a permanent state of suspended motion - a portrayal that vividly captures the charged immediacy of life in the wild.
Nab this essential work from an artist who captures the essence of animals and not just their anatomical dimensions.
Priced From: US$3120
By Bruce Little