Food, Wine and Nature
If you feel in need of inspiration, rejuvenation or some good old fashioned family togetherness, it only takes 2 hours from Cape Town to find it in Arniston. To attract more visitors over the winter months, a number of innovative weekend breaks are on offer.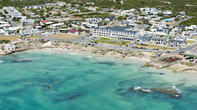 ©Jean Tresfon
Foodies who enjoy high spice would like the Thai Cuisine weekend with a masterclass by a Thai chef. Wine tasting is also quite popular in the area. Nature lovers are guided around De Hoop Nature Reserve for superb bird spotting and Fynbos appreciation weekends. Several hiking trails in the area allow you to watch as the southern right whales breach and crash within the waves.
Arniston Hotel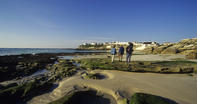 ©Jacques Marais
This quaint seaside resort near the southernmost point of Africa allows you to be in three places at the same time. Some call it Waenhuiskrans, after the sea cave big enough to turn around a span of oxen; some call it Arniston; and still others call it Kassiesbaai. Arniston Hotel is set beside Kassiesbaai, the 200-year-old hamlet that forms the core of Arniston.
Colourful fishing boats lie drawn up on a slipway between the two. The hotel takes its theme from the dozens of shipwrecks along this coast. Visitors can read about the tragedy of the HMS Arniston transport shipwreck, as well as survivor's accounts. There are framed descriptions of events surrounding the sinkings as well as artefacts salvaged from the vessels.
The maritime theme extends throughout the hotel with sailing charts, flotsam and jetsam, paintings of ships and seascapes as well as shells and smooth beach pebbles serving as decoration. The entrance is dominated by a big ship's anchor and houses a model of the Arniston.
Fishing Village National Monument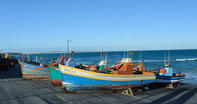 ©Shem Compion
Fishing boats at Arniston Quay.
With opportunities for fishing, the most delightful and enlightening experience afforded to visitors in Arniston is the short stroll over to neighbouring Kassiesbaai. For the cultural village experience, a local guide will walk you through the sandy streets, greeting people and offering you a peek inside one of the little thatched and whitewashed homes.
In addition to this, there is a unique, picturesque little village with its coloured fishing boats boasting loved ones names, that has been declared a National Monument in its entirety. Guests might also run into international novelist Douglas Kennedy, who stays at the Arniston Hotel each year for several weeks, in order to find inspiration for his next novel.
At any time of the day, you can take 4X4 onto the perfect dunes behind the beach to unwind, and their Arabian quality is very enticing.